Price targets everywhere!
"Oil to $300" says the Tootsie Pop Owl in Barron's.  "Dow to 36,000" says the man who needs to sell enough books to pay for his niece's orthodontic work.  "Gold to a million" says the raving lunatic who's spent the last year double-short the Nasdaq because of fractional reserve lending or whatever.
Calculating price targets always makes buffoons out of even the smartest guys in the game, but working backwards with a rate of return in mind at least injects some rationality into the process.  My friends at the Notorious B.I.G. did a work-up of what 12.5% annual returns would mean for Oil, the Dow Jones Industrial Average and Gold…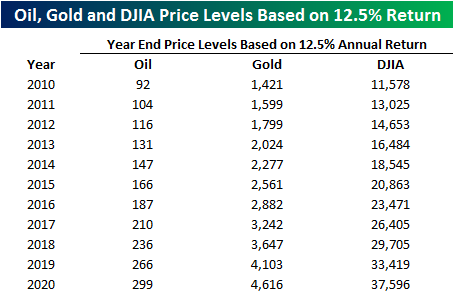 When you compound and add enough time, all of a sudden targets that may seem completely off the wall at first blush end up seeming a bit more…possible.
Source: