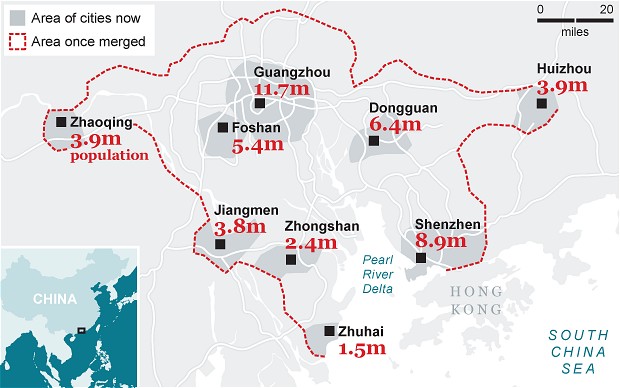 This is going to be off the hook.
There are 9 cities in the Pearl River region of China.  They've begun to bleed and sprawl into each other anyway, so they figured they may as well hook up and begin the unification.  This will mean combined and coordinated transportation, policing, waste collection etc.
Some stats (Telegraph via The Economist)…
The "Turn The Pearl River Delta Into One" scheme will create a 16,000 sq mile urban area that is 26 times larger geographically than Greater London, or twice the size of Wales.

The new mega-city will cover a large part of China's manufacturing heartland, stretching from Guangzhou to Shenzhen and including Foshan, Dongguan, Zhongshan, Zhuhai, Jiangmen, Huizhou and Zhaoqing. Together, they account for nearly a tenth of the Chinese economy.

Over the next six years, around 150 major infrastructure projects will mesh the transport, energy, water and telecommunications networks of the nine cities together, at a cost of some 2 trillion yuan (£190 billion). An express rail line will also connect the hub with nearby Hong Kong.
Chinese planners are being pragmatic by doing stuff like this.  You can hate "central planning" but still appreciate the efficiency and intelligence of an idea that reduces pollution, streamlines law enforcement and seeks to use proximity as a force for the greater good.  It's not like these cities are going to get more manageable on their own…
Sidebar: What's the deal with Wales, anyway?  Ever meet someone who was all like "Oh, hey – I'm from Wales, blah blah blah…"?
Source:
Development in China: The Pearl River Mega-city (The Economist)