Restaurant stocks as an industry are down 1.68% year-to-date vs a 4% advance for the broader US stock market.  I think I know why – and no, I don't see any reasons to be getting long here…
The pissing and moaning over commodity prices in the summer of 2007 was epic on every single restaurant conference call I sat in on.  I mean one call was lamer than the next.  When they weren't blaming the fact that Easter weekend had jumped forward into the quarter it was "high gas prices" this and "high fruit costs" that.  One company said they would have earned money rather than posted a loss for the quarter had they only closed down for one day part!
Fast forward to now: Raw food costs have shot up into the stratosphere and with $90 oil, it would appear that utility costs (a restaurant's arch enemy) will head higher as well.
I ran a quick screen for some of the restaurant stocks with the lowest operating margins, essentially those I deem most susceptible to the spiking of commodity costs going into the spring.  I've also included the debt-to-equity ratios for each and then I colored the spreadsheet purple and pink because, well, I'm a giant girl.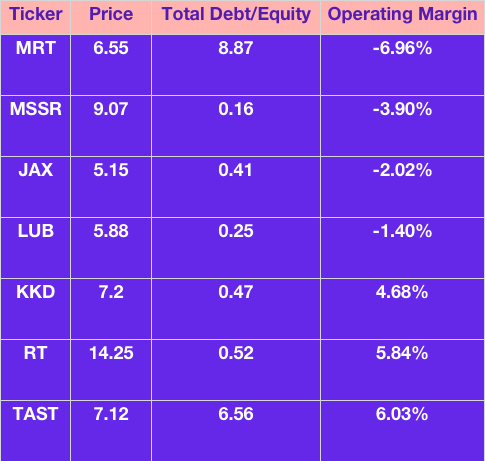 Let's take a look at one of these just to get a sense of how ugly the stocks look right now.  Below is a chart for Carrols Restaurant Group ($TAST).  This is the parent company of something called Taco Cabana, they're also the largest Burger King franchisee in the nation…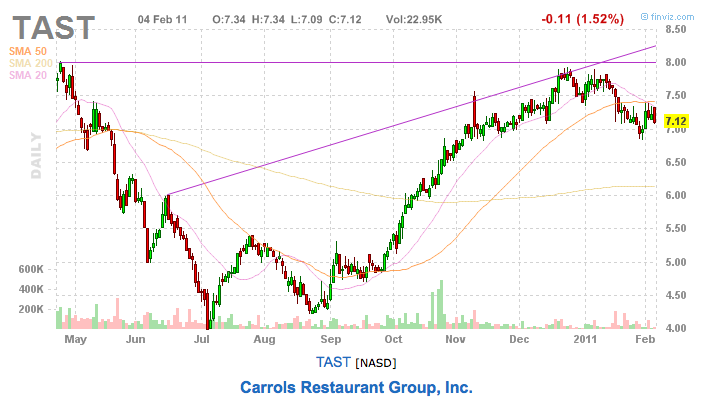 Ucchhh, I wouldn't buy this stock for Bin Laden's rollover IRA.
I've not done any deep homework lately on individual restaurant stocks because, to me, names like these become The Untouchables in an environment like this one.
Most of you won't own these stocks in particular, but you may want to scan your holdings in light of the new raw cost environment and try to get a sense of who might come out with a surprise miss or preannouncement.