As of this 11am-ish posting, the Dow is off 60 points or so and the Nasdaq is giving up much more percentage-wise, about 1.5%. (Updated: Dow off 128 circa noon!)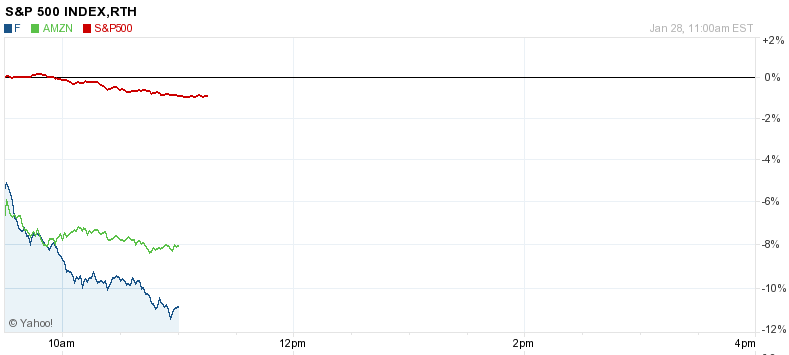 There are a few things weighing this market down.
* First, Q4 GDP, while an acceleration sequentially, was below expectations (3.2% versus the 3.5% forecast).
* Second, some momentum faves and stalwart names had good-but-not-good-enough earnings.  Amazon ($AMZN) is down 15 bucks (8%) and Ford ($F) is off more than 2 (11%).  The psychology shifts when people see that stuff in the big winners.
* Third, January Consumer Confidence was nowhere near as buoyant as the stock market.  The barometer read 74.2 which is down from 74.5 in December.
* Fourth, there is a sense that gasoline prices and food costs are beginning to play havoc with the rosy outlook for corporate margins and earnings.  Starbucks ($SBUX) cited higher coffee costs in guiding lower for 2011 the other night, they will not be the only consumer company to do so.
I'm not seeing panic out there just yet, however.  But there is moist definitely a weight on our shoulders and it feels strange after so much levity.