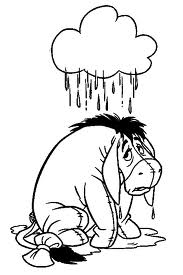 The old grey donkey, Eeyore stood by himself in a thistly corner of the Forest, his front feet well apart, his head on one side, and thought about things. Sometimes he thought sadly to himself, "Why?" and sometimes he thought, "Wherefore?" and sometimes he thought, "Inasmuch as which?" and sometimes he didn't quite know what he was thinking about.
If the financial services were the Hundred Acre Wood, Bank of America would be Eeyore – acted like a jackass during the boom-bust cycle and now every single news release is a woe-is-me occasion.  And Ken Lewis was some sort of a Piglet/Pooh hybrid with his head stuck in the Merrill and Countrywide honeypots.
This morning's Q4 earnings report was yet another opportunity for disappointment and the biggest US bank by assets brought it's C game, right on schedule.
From Fortune:
Bank of America lost $1.2 billion, or 16 cents a share, for the quarter ended Dec. 31. The latest period included a $2 billion home lending goodwill impairment, reflecting a decline in the value of that franchise; $4.1 billion in expenses tied to the cost of settling disputes over souring mortgages, including the widely questioned settlement announced this month with Fannie Mae and Freddie Mac; $1.5 billion in litigation expenses tied mostly to the consumer business; and weak sales and trading revenue.

Wall Street analysts were expecting BofA to make 14 cents a share. BofA said its profit excluding the impairment charge was $756 million, or 4 cents a share.
Terrif!  Still under that gray raincloud looking for pity.  You'd have thought with all their bad behavior they'd at least have some profits to show for it.
"Thanks for noticing me"
Source: