I love data dumps.  I have a bookmark folder full of 'em.  Market stats, population stats, performance stats, economic stats – you name it, I'm storing it.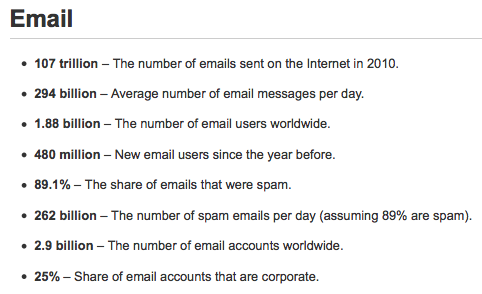 Well kids, as far as internet statistics, Daddy's just hit the jackpot.  Every single datapoint you've ever wanted about the state of the web as of year-end 2010 is here.
For example, did you know that there were 25 billion tweets sent and 100 million new Twitter accounts created in the last year alone?  How about that Latin America has 204 million internet users while Africa has only 110 million?  294 billion emails sent a day, did you know that?  Or that there are 88.8 million .com names?
This deliciously didactic deluge of diverting digital data droplets can be found over at Royal Pingdom in a post called Internet 2010 in Numbers.
G'head, I know you want to: