I'm in the fight of my life against this NFL kicker Josh Brown for the top slot on Google.  This ain't about SEO or keywords, it's about justice and the rights of a non-superhero to claim what's rightfully his.
True story, the last time my father hit me was during a game in 2003 or 2004 during which kicker Josh Brown, then on the Seattle Seahawks, kicked like 3 straight field goals in the second half against my dad's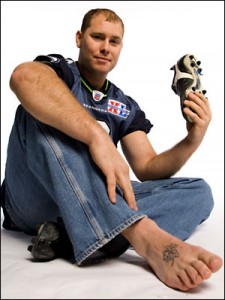 beloved Giants.
The announcer made some remark along the lines of "…and Josh Brown is just wrenching this game away from the NY Giants this afternoon," and my dad slapped me in the back of the head.
I was like "Ahhhh, dick!  Why'd you do that?"
He was all like "Shut up.  You deserved it."
Anyway, in the long run, unless Josh Brown the kicker (now on the St. Louis Rams) has a Hall of Fame career, I'm bound to grab that top Google spot eventually.  Because unlike a pro athlete, I can do my thing here on TRB forever.  And ever.
Oh yes – the Josh Brown Supremacy shall be mine.