The anecdotes and empirical evidence are sloshing in over the transom.  No one should be surprised to see the lunch-break traders and retail commandos coming back after a 22-month, almost uninterrupted stock rally.
Now, notice the difference between when I talk about retail investors and retail traders.  They are closely related and there is definitely some overlap – but they are not quite the same animal.
The retail investors' activities can be tracked more effectively by fund flow data, the filings of public asset managers like T Rowe and Janus, along with sentiment polling.
The retail trader, on the other hand, can be tracked thusly…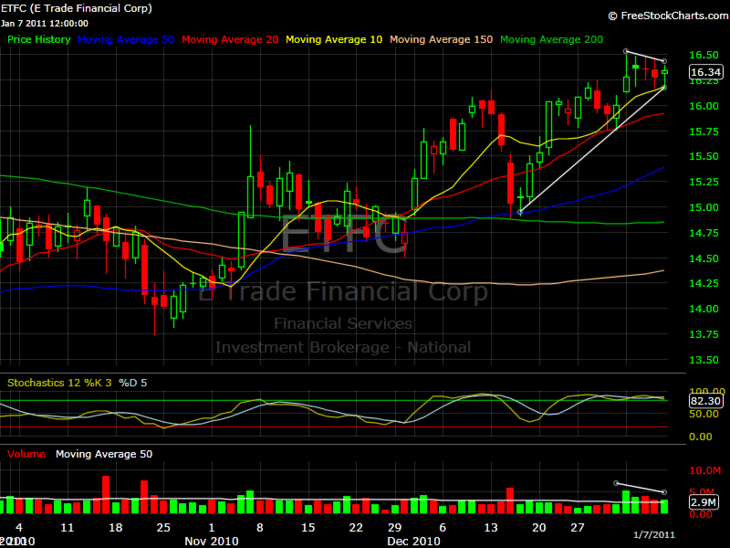 This chart of E*Trade Financial ($ETFC) was uploaded to Chart.ly by my San Diego pal Steve Gomez of Today Trader.
Away from the stock price, the single best way to measure E*Trade's core trading commission business is with their monthly DARTs reports.  Daily Average Revenue Trades for E*Trade's November report came out on December 15th.  They were up a whopping 9% sequentially over October.
Something tells me that December's number will show strength as well, lending support to Today Trader's hunch that the retail trader has, in fact, been making quite a comeback.
BTW, the irony that this is coalescing in the midst of a cooling off for the market over the last week is not lost on me and is probably just absolutely delicious to the pro trader market snobs.