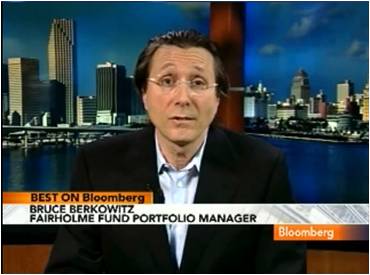 Bruce Berkowitz is a beast. This week the "Mutual Fund Manager of the Decade" put out a press release thanking the government and its civil employees for helping his Fairholme Funds to destroy the S&P 500.  The release ran as a full page ad in several major publications like the Wall Street Journal.
Here it is in full…
***
MIAMI–(BUSINESS WIRE)– Fairholme Capital Management:
In 2010, The Fairholme Fund earned 25.5% versus a gain of 15.1% for the S&P 500 Index. Since inception on December 29, 1999 and through December 31, 2010, The Fairholme Fund earned 342.9% versus a 5.0% gain for the S&P 500 Index. At last year's end, The Fairholme Fund's respective 5 and 10-year annualized returns are 10.0% and 11.5% versus 2.3% and 1.4% for the S&P 500 Index.
Since inception on December 31, 2009, The Fairholme Focused Income Fund earned 11.2% for the calendar 2010 year versus a 6.5% gain for the Barclays Capital U.S. Aggregate Bond Index.
The Fairholme Asset Allocation Fund started on January 3, 2011.
Over the past few years, Fairholme's performance is due in large part to thousands of patriots in civil service who rescued the global financial system with much intelligence and hard work, demonstrating government at its best during a time of national crisis. On behalf of nearly 500,000 shareholders and clients, Semper Fi.
Charlie Fernandez and I remain grateful for the many professionals that directly and indirectly worked for our shareholders, with special thanks to the U.S. Treasury for equitable treatment at AIG, to Goldman Sachs for outstanding advice in Asia and to Brookfield Asset Management and Pershing Square for all stakeholders fully recovering in the restructure of General Growth Properties.
Government is doing its job. We'll continue to do ours, looking forward to further potential recovery at AIG, MBIA and others, while helping to remove the financial roadblocks to our country's economic growth.
Bruce R. Berkowitz
Managing Member
Each Fund's investment objectives, risks, charges, and expenses should be considered carefully before investing. The prospectus contains this and other important information about the Funds, and it may be obtained by visiting our website www.fairholmefunds.com. Read it carefully before investing.
Mutual fund investing involves risks including loss of principal. Performance information quoted herein is unaudited, represents past performance and is not a guarantee of future results. The investment returns and principal values of investments in the Funds will fluctuate so that an investor's shares, when redeemed, may be worth more or less than their original cost. Current performance may be higher or lower than the performance information quoted within. The Fairholme Fund and The Fairholme Asset Allocation Fund imposes a 2.00% redemption fee on shares held less than 60 days. Performance data does not reflect the redemption fee, which if imposed, would reduce returns.