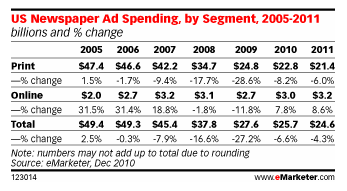 eMarketer (via All Things D) confirms what we all knew would happen sooner or later – ad spending on the web has officially surpassed ad spending in print…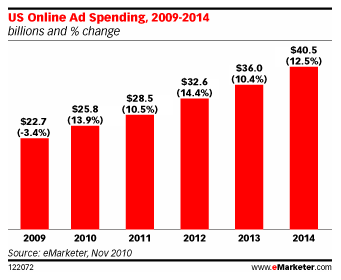 Advertisers will spend more on internet ads in 2010 than newspaper ads for the first time, according to new estimates by eMarketer.

Online ad spending will grow 13.9% to $25.8 billion for the full year in 2010, while advertisers are expected to spend just $22.78 billion on print newspaper ads this year, down 8.2% from 2009, eMarketer estimates.  Total newspaper ad revenues from print and online ads are expected to hit $25.7 billion this year, still shy of the $25.8 billion advertisers will spend on internet ads.
Ad dollars go where the consumers go, tale as old as time. How much time per week do you spend with a printed newspaper lately?
Source:
The Web Passes Newspapers in Ad Spending for the First Time (eMarketer)