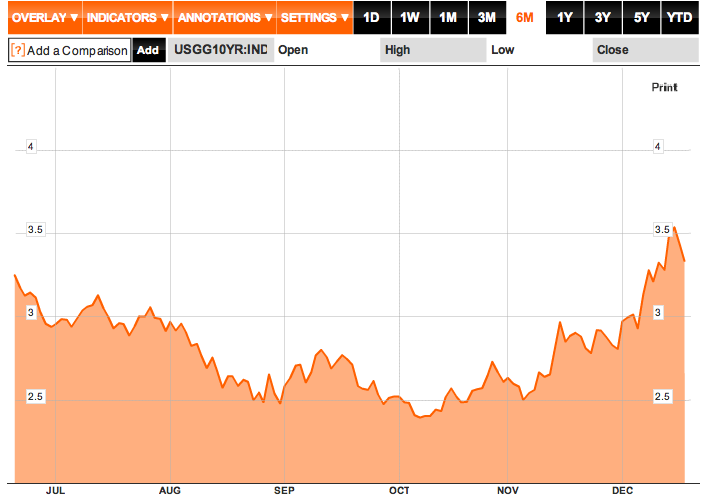 This should serve as a reminder to anyone who forgets about how violent the bond market can be.
The spike in Treasury yields that began a few weeks back has been relentless and without remorse.  On Wednesday, the 10-Year yield printed a 7 month high just above 3.52%.
Economic and stock market bulls are taking the rising rates as a good omen.  They note that rates are supposed to rise in an economic expansion and that parked money is coming out of bonds to be put to work productively elsewhere.
The bearish take is that the tax cut bill means another (yes, another) $800 billion in deficit that foreign investors simply will not ignore.  Talk of Bond Vigilantes awakening in the US abounds as does chatter about possible federal bailouts for failing municipalities.
Just how high should we expect rates to go?  I have no forecast that would be of any value to you but I can tell you who not to listen to.  Morgan Stanley's fixed income department got the bond market wrong twice this year – a phenomenal accomplishment even for a wirehouse.
For the entire year, bonds rallied, yields dropped and Morgan Stanley remained the most bearish on The Street.  And then in late August, they issued a dramatic mea culpa and flipped bullish.  Almost at the absolute top of the bond market…
Aug. 20 (Bloomberg) — Morgan Stanley, the most bearish among the 18 primary dealers that trade government securities with the Federal Reserve, acknowledged that its forecast that Treasury yields would rise this year was misguided.

"We got our rates call wrong and missed a great opportunity to be long bonds this year," James Caron, head of U.S. interest-rate strategy at Morgan Stanley in New York, wrote in a note to clients yesterday. "The market is currently rife with tactical relative value opportunities and that's what we will focus on going forward."
Relative value opportunities?  How about slaughterhouse?
I guess the smart guys at MS were too busy giving speeches at their clients' daughters' weddings with the cameras rolling.  Had you followed their bond market direction this year, you'd have been killed twice.
Sources:
U.S. bonds attract buyers after surge in yields and more turmoil in Europe  (LAT)
Morgan Stanley Issues Mea Culpa on Treasury Forecast (BusinessWeek)