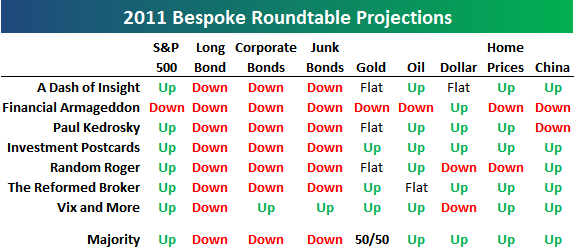 My pals at the Bespoke Investment Group (aka the Notorious B.I.G.) are out with their 2011 Roundtable and its filled with goodies from your favorite financial bloggers (and me also).  Mebane's in there, so is Eddy, Paul Kedrosky, Charles Kirk, Jeff Miller, Roger Nusbaum, Michelle Leder, Prieuer,  Panzner, Luby, …it's awesome.

I'll give you Bespoke's intro and then send you over for the whole Q&A.  I think you're gonna love it…
***
At the end of each year, the big financial media outlets typically conduct roundtables to get outlooks from key players in the financial markets.  Over the past few years, the individuals that run the best financial blogs and websites have become key players in their own rights, and their opinions are highly regarded by millions of loyal readers.  Below is our 2nd annual Bespoke Roundtable with some of the major names in the online financial community, and it's all available for free to anyone with Internet access!
Twelve of the most popular financial blogs/websites agreed to participate in the roundtable.  Each participant was asked to respond to the same 34 questions regarding their 2011 outlooks and their take on 2010.  Once again we got some incredibly insightful commentary from each participant, and we feel that readers will thoroughly enjoy it.
Click Below: