You are not ready for this:
Introducing the new Market Pulse tab on Yahoo Finance powered by none other than…STOCKTWITS!

Now, when checking out a ticker symbol on the world's biggest financial site, you can check out what the real traders and investors are saying live on the StockTwits stream by clicking "Market Pulse" right under the "Message Board" tab:
You will then see this right on the page: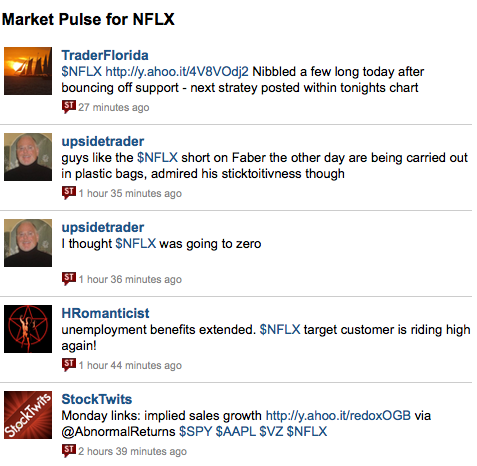 Millions of monthly Yahoo Finance users now have the chance to experience the cameradie and intelligence-sharing that many thought had died with the physical exchanges and trading floors of a bygone era.  That sense of community is alive and well, now conveniently plugged in on Yahoo with every ticker symbol.
Not a StockTwits member yet?  The good news is, all you need to join is an interest in stocks and a willingness to share.  The ground rules are pretty simple, too – we are a curated stream of commentary – no penny stocks, no spam, no politics, no diatribes and no nastiness.  Just the good stuff.
Our community is about being clever, timely, observant and smart.
We're about learning from others and self-improvement.
We're about making great trades and giving props to those who contribute.
And most of all, we're about having fun.
If you love stocks and markets, Yahoo Finance and StockTwits just gave you the ultimate holiday present.
Unwrap your gift here: http://finance.yahoo.com/marketpulse/aapl
Read Also:
Joining the Gang: 1 Year Anniversary on StockTwits  (TRB)
Eddie Joins StockTwits, the Juggernaut Marches On (TRB)
Congrats to StockTwits – On TIME's Top 50 Websites List (TRB)