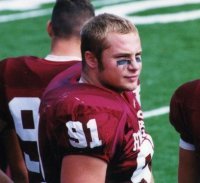 You can spend a whole career on Wall Street but you haven't met a real trader until you've met one these Chicago guys. 
Eli Radke, up-and-coming trader and blogger, is a 320-pound former Indiana University defensive lineman with an awesome story about how he earned his first trading stake.  He did it the old-fashioned way – jumping off the LaSalle Street Bridge into the Chicago River.
The desire to trade and the allure of being a part of the trading culture knows no bounds sometimes.  I've asked Eli to tell us his story.  There is a lesson in here about entrances and exits that will ring true to any trader with capital on the line.  Here's my pal Eli in his own words…enjoy!
***
After college, I still had pipe dreams about playing professional football. Come
August it was obvious that was not going to happen. I never applied for a job
and quite honestly I knew I did not want to work for anyone. I worked for a few
months for my father, who has an industrial construction business. I choose to
have a father instead of a boss. I had met a guy earlier in the summer who was
a trader and also had some restaurants. I met him for lunch one day a Rivers, a
restaurant in the building where the CME floors were at the time. He showed me
the floor and I was hooked. He let me hang out in the office for a bit and I
worked in a restaurant at night.
One day we were walking across the Monroe Street bridge on our way to
breakfast. I made some comment about the bridge not being very high. He said I
will give you give you 5k to jump off. I hesitated for a bit, then started to take my
phone and wallet out of my pockets. He balked and so did I.
A few months later, we were having a few drinks. Let me preface that by
saying that I probably have a different definition of "a few drinks".  That particular night
we were doing shots of Rumple Minze or as I now refer to it, River Minze. We are
crossing the LaSalle street bridge to go to another place. At the beginning of
the bridge I reminded him about the time he bet me to jump off. By the time we
had crossed the bridge I had handed him the contents of my pockets.
After some final negotiations I climbed over the rail and jumped.  As I am
falling I hear his best friend, who happens to be a money manager, say "Make sure
you have a way out." My family is from Minnesota so I learned swimming the hard
way – survival.   I swam over to a column.  As I looked around I saw
an ambulance, the Chicago Fire squad and the Chicago Scuba squad on Wacker Drive.
I thought, "I hope they bail me out."  The column was about 20 or so feet away
from the wall.   I can't remember the exact month but it wasn't summer.   I swam
to the edge of the bank.  I tried to step up on the 2 x 6s but they kept breaking.
I was about carrying around 320lbs and was fully clothed. I started to panic a bit
after breaking several boards. I finally find a ladder. I pull myself out of the water.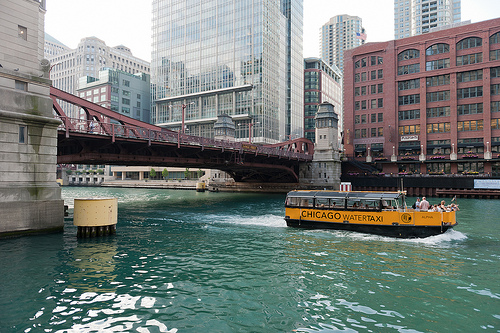 The wall has chicken wire and I use it to climb onto Fulton Market's patio.  There are two
ladies screaming at the group of guys who were still on the bridge.
I was once again worried about being arrested. The police and rescue
were not there for me, thankfully they were using the resources for someone who was not
an idiot. I did not know that at the time. LaSalle is one-way going south so
they would have had to go around the block. We walk to the next street and a
group of about 10 guys are shielding me from the cops.  I try to get a cab and
of course they do not want to pick up a dripping wet passenger.  Still not
knowing if the coast is clear we walk into another bar.  I go to the bathroom.
I am freezing and my adrenaline is pumping.   I look in the mirror and proceed to
projectile vomit. I clean up a little and walk out.  Of course they have another
shot waiting for me.
I take the shot and get a cab home. When I get home I run a hot bath. I had
forgotten to drain the bathtub and the next morning it was black. The next day,
I go to work. He gave me $500 cash and put the rest in an account.
I learned a lot about trading in that moment.  Traders (my friend) and money
managers (his friend) think very differently.  Traders value the entry and
managers value the exit. I also learned that if you need to make money, you
often risk too much.   Luckily it all worked out.   It could have gone a different
way.   The bridge is much higher than I thought and the water was much colder.
Apparently there was a rumor that I had died.   I have met a few people that tell the
story and I just sit back and listen.  It is interesting to hear the
variations.  The money was a good start but the lesson was invaluable.   I would
not change the experience but it was not the smartest thing I have ever done.
***
Eli, you're an animal.  Thanks for that story!
For more of Eli's trading commentary visit his blog at http://traderhabits.com/about/