"I'm avoiding China, I think it's a bubble.  I'm only buying Brazil, like the EWZ."
– Stockbroker I Know
Let me help you out there, junior, even though we've been through this before.  With record amounts of cash chasing various emerging markets flavors, I think this is an important concept to bring back to the fore.  China's road, bridge and infrastructure build-out accounts for half of the country's GDP based on this weekend's NYT Magazine story.  Should the country truly shift gears toward a more consumer-oriented economy, the chief vendors to China's infrastructure story will surely be affected.
Once you understand that concept, it becomes important to recognize that $EWZ, the most common vehicle investors use for Brazil exposure, is not really a Brazilian ETF.  Yes, I know its called the iShares MSCI Brazil whatever, but other than some big Brazilian banks, the entire thing is based on the Chinese economy, not the Brazilian domestic situation (which I like, by the way).
Let's quickly take a peek at EWZ's top five holdings (half the fund), directly from the latest iShares update: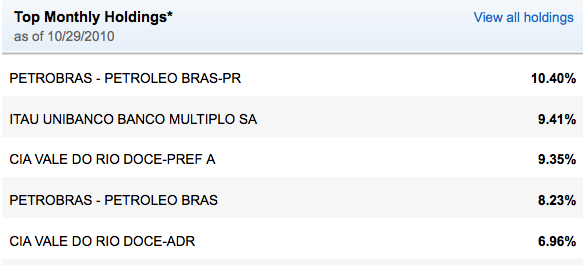 Pull out that bank and you basically have a materials and oil portfolio.  These materials and oil companies are doing very little business with their own citizens as we all know – they are doing the vast majority of their business with the voracious Chinese blast furnace economy.
"But c'mon Josh, it's not all China, is it?"
I pulled some incredibly telling stats out of Barron's earlier this month that everyone should be aware of.  In a great article about Vale, Brazil's mining and mineral giant, we get a look at just how important China demand is:
China accounted for almost 40% of the company's 2009 revenue, with the rest of Asia contributing 19%; Europe, about 17%, and Brazil, 15%.
You can look at Petrobras in the same light, as China's appetite is a key driver for oil pricing.
No, it's not all China, but Brazil's burgeoning middle class is benefiting from the flow-through of mineral wealth which itself is a function of Chinese demand.  The two stories are inseparable.  It should come as no surprise to investors that an ETF comprised predominantly of Brazil's leading exporters is more related to China than to its own local economy.
If you truly want Brazil, there are plenty of public companies that cater to Brazilian consumers as opposed to the China infrastructure complex.  There is also an ETF (ticker $BRF) that is meant to get Brazilian consumer exposure with smaller cap holdings away from just mining giants.  Whether or not the Brazilian consumer could withstand a Chinese building slowdown is a conversation in and of itself.
But make no mistake – EWZ, the most popular Brazil stock ETF, is a Chinese economy play in disguise.  Reevaluate accordingly.