A tech analyst from Ticonderoga told Barron's that Apple ($AAPL) was THE stock to own this Christmas (target $450).  In my piece yesterday (iChristmas), I talked about how 31% of kids wanted an iPad as their electronic gift – the leading choice in the category.
While many agree that this holiday shopping season will belong to Apple and the iPad, there is a sense that they've already missed it with the stock at $314 a share (a few bucks off the all-time high).  While I won't agree or disagree with that view, I thought it might be helpful to present the recipe for the iPad (and other tablets) – the various semiconductor and component ingredients that go into the stew.
With some help from UMB TechInsights and my new pal Buy On The Dip, an illustration and a tablet/smartphone ingredient list below.  These aren't recommendations, just a starting point for those looking to play iChristmas.  Happy Homework!
Click to Embiggen!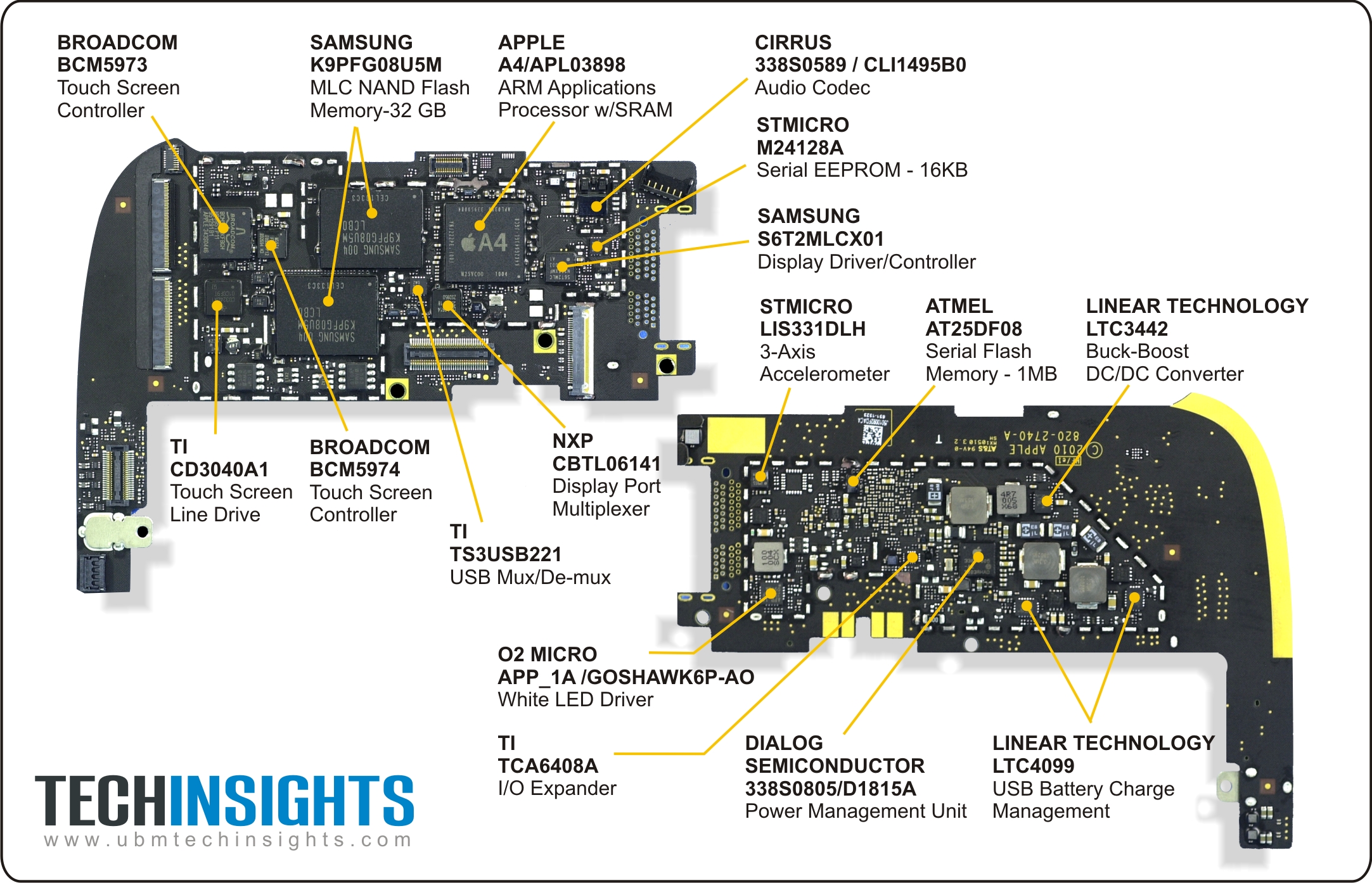 1. Atmel $ATML (touch controllers, in HTC EVO, Samsung Galaxy)
2. Broadcom $BRCM (multiple chips, bluetooth, GPS)
3. Cirrus Logic $CRUS (audio processors)
4. Infineon $IFNNY (mobile unit bought by Intel, Tesla Motors chips)
5. Intersil $ISIL (sockets, USB interface)
6. Linear Tech $LLTC (power control, DC to DC)
7. NXP Semi $NXPI (power management, Near Field Communication)
8. OmniVision $OVTI (image sensors)
9. Qualcomm $QCOM (CDMA for Verizon iPhone)
10. STMicroelectronics $STM (Accelerometer)
11. Skyworks Solutions $SWKS (quad-band)
12. TriQuint $TQNT (power amp)
13. Texas Instruments $TXN (touch sensors)
14. Rumored – iPad 2 initial Printed Circuit Board supplier? TTM Tech $TTMI
Sources:
Apple: The One to Own this Holiday (Barron's)
iPad Analysis Insights (UMBTechInsights)
All iWant for Christmas – Apple Inc (Buy On The Dip)
iChristmas (TRB)