I know it's only November, but these stocks have given their holders about 20 years worth of performance since January!
One of them, Tor Minerals ($TORM), was so off the beaten path (they make specialty chemicals for paint!) that you really only had "price" to tell you the story on the way up: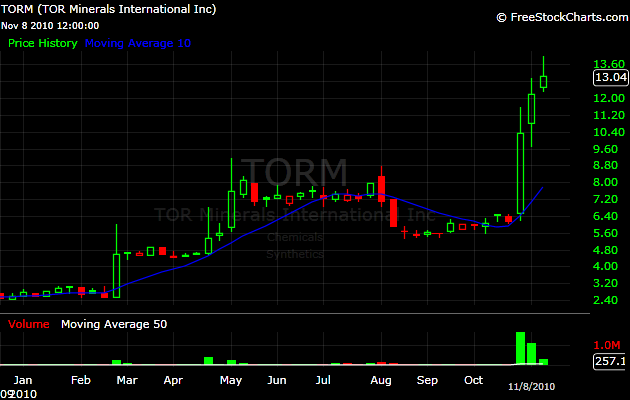 StockTwits's Resident Mad Scientist Ivaylo Ivanhoff takes a look at the best performing names year-to-date and discusses what they had in common technically:
What were some of the common features between the above mentioned stocks, before they went to make their monstrous moves?

1) Sudden range expansion (in the example of $TORM, from 50 cents weekly range to $3.50 weekly range)

2) Volume expansion (in the case of $TORM, from 5000 traded shares per week to 200k, a 20 fold increase). As the price moves higher, liquidity improves.

3) The five stocks were below $5 in January. Under $5 stocks are under the radar and often neglected volumewise.

What were the most obvious common features between the five stocks in the middle of their moves?

Well, all stocks that appreciate more than 300% ytd, are up only a 100% at some point in the year. Not every 100% move will turn into a 300% move, but relative strength plays a huge role in revealing the best performing stocks ytd. The strong get stronger.
Ivanhoff will also be discussing some of the fundamental aspects and catalysts of these winners as well.
Great stuff.
Source: