The next chapter in the quantitative easing drama takes place in the ag commodity neighborhood.
Over in Britain, the Guardian posted a full-scale freakout piece tying in Bernanke's policies to a sharp spike in food costs…
UK food prices were 9.8% higher last month than a year ago, the biggest annual increase since October 2008, according to the Office for National Statistics. Imported food prices climbed 4.5% on the year, the fastest rate since October 2009, pushing up the price of bread and margarine. Prices are likely to be pushed higher in coming months, with refined sugar reaching a record of $783.90 a tonne today.
Greg White over at Clusterstock has a very worthwhile slideshow (can't believe I just wrote that phrase) illustrating the food cost spike by commodity.  Corn, for example, is just completely absurd and very scary if you are in the business of feeding large quantities of animals (or addicted to Crackerjacks) :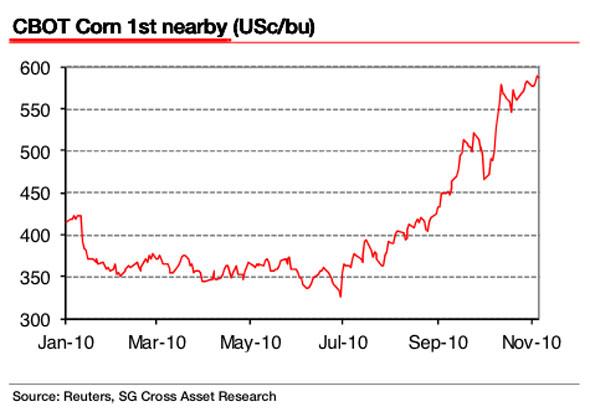 The agflation beat goes on.
Sources:
US Accused of Forcing Up World Food Prices (Guardian)
Here's the Massive Commodities Surge etc.  (Clusterstock)
Read Also: