Markets reversed lower today after ProPublica broke a potentially big story about JPMorgan's Goldman-esque activities in the CDO business with a certain infamous hedge fund called Magnetar…
The Securities and Exchange Commission is investigating whether JPMorgan Chase allowed a hedge fund to improperly select assets for a $1.1 billion deal backed by subprime mortgages, according to people familiar with the probe.

Called "Squared" and completed in May 2007, the deal was a collateralized debt obligation, or CDO, made up of pieces of other CDOs. The hedge fund, Magnetar Capital, based in Evanston, Ill., purchased the riskiest slice of Squared as part of a strategy to bet against the mortgage market.
Jesse Eisinger absolutely owns this story, he started chronicling Magnetar earlier this year.
Anyway, take a look at JPM intraday: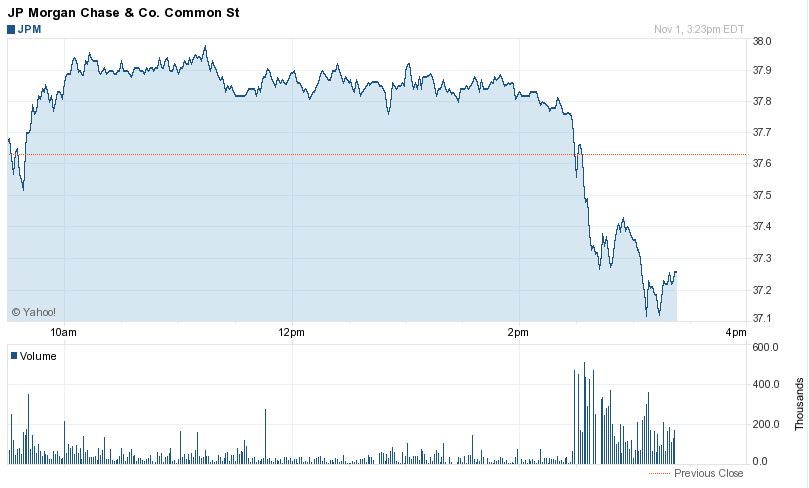 Was this news really what sunk stocks today or was it just an excuse to sell ahead of the mid-terms tomorrow?  Too soon to tell.  Head over to ProPublica and get yourself up-to-speed.
Source:
SEC Investigating Deal Between JPMorgan and Hedge Fund Magnetar (ProPublica)
Read Also:
Meet the Bialystock and Bloom of the Mortgage Meltdown (TRB)