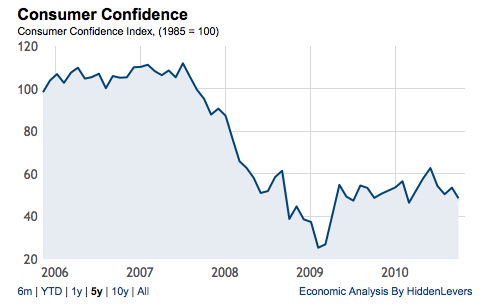 The Consumer Confidence index is one of those measures where we still have a loooooong way to go (90 is considered a healthy economy, we're just barely nosing above 50).
Today's report for October 2010 gave us a slight uptick, nothing to get naked over…
From CNNMoney:
The Consumer Confidence Index rose to 50.2 in October, up from 48.6 in September, the Conference Board, a New York-based research group that compiles the index, said Tuesday…In October, the number of consumers calling business conditions "bad" outweighed those saying conditions are "good" by nearly five to one, slightly better than the month before, when that ratio was six to one.
Jobs, jobs, jobs – nothing else matters, my friends.
Source: