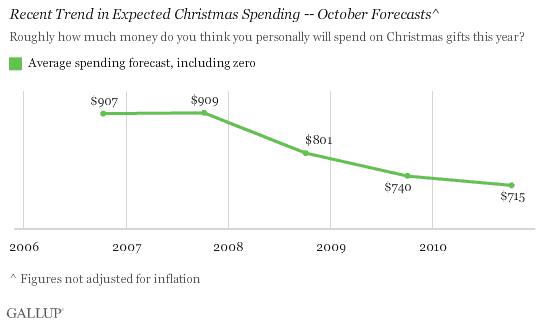 Gallup is out with its poll asking people how much they plan to spend this year…
Gallup's initial measure of Americans' 2010 Christmas spending intentions finds consumers planning to spend an average of $715 on gifts, roughly on par with the $740 recorded in October 2009.
Personally, I'd take the over on that $715.  The poll took place earlier this month, and because the stock market goes up every day there's still a lot of time left for people to feel better before Black Friday.
The drop off from last year's poll is negligible according to the pollsters…
The $25 decrease in Americans' holiday spending intentions between October 2009 and October 2010 (not a statistically significant change) contrasts with a $61 year-over-year reduction in intended spending found last October and a $108 reduction found a year prior.

The muted nature of this year's decline is reflected in consumers' own evaluations of their spending changes. According to the Oct. 7-10 poll, 27% of Americans intend to spend less on Christmas gifts this year than what they spent last Christmas — higher than the 11% who now say they will spend more, but down from the 35% and 33% in 2008 and 2009 saying they would spend less.
I don't think anyone really knows what they'll spend until they get to the stores, these numbers are more interesting as sentiment gauges.  Expect this number to trend higher into the shopping season.
Source:
Consumers Issue a Cautious Christmas Spending Forecast (Gallup)