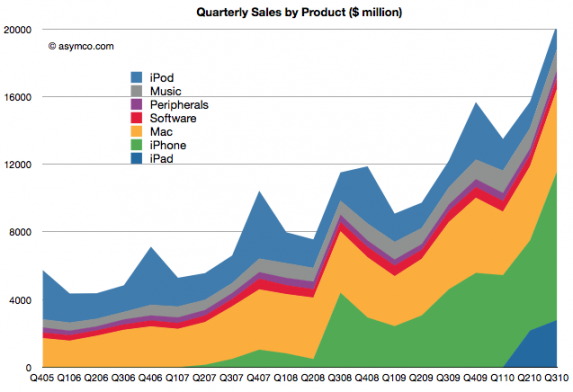 The iPod was first released on October 23rd, 2001.  I knew only one or two people with the first generation, I was still rocking a Sony Discman at the time!  Even at the gym!
Apple ($AAPL) now has the second largest market cap, second only to Exxon Mobil ($XOM) and just did a whopping $20 billion in sales last quarter.  At the time of the iPod's release 9 years ago there was talk that Apple would be better off just closing up shop.
Fortune Magazine is celebrating the product that changed everything on it's 9th birthday with some stats:
Age: 9 years
Units sold: 278,545,000
Net sales: $47,833,000,000
And some milestones:
Q1 2004: iTunes for Windows
Q4 2004: iPod mini, clickwheel, overseas expansion
Q2 2005: iPod shuffle
Q1 2006: iPod nano
Q1 2007: Entire line overhauled
Q1 2008: iPod touch
When they write the story of the 00's decade for business, Real Estate will be chapter 3, Google ($GOOG) will be chapter 2 – but Apple will be the very first chapter and the first paragraph should be about iPod.
I'm gonna go hit the streets for a jog with the brand new Nano I bought the other day, my 6th iPod over the last 7 years.  It holds 4000 songs and can fit into my wallet.
Life-changer.
Sources:
The iPod's Rise and Fall (Fortune)