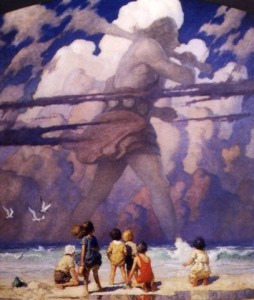 In the movie Almost Famous, a young Rolling Stone writer is faced with the dilemma of whether or not to be critical of the bands that he worships.  He is told repeatedly that the bands, objects of his admiration though they may be, were not worthy of the pedestal the writer had put them on.  The writer finds out that this is only partially true and that although flawed and human, there was something special about the musicians that had brought him along for the ride.
This week I blogged about a handful of fund managers who are undoubtedly in the pantheon – they are among the greatest investors not just of this moment but of all time.  Speaking for myself and for 99% of my fellow financial bloggers, I'd like to explain why these investors find themselves mentioned on our sites so often, in both negative and positive lights.  The simple reason is that we are fans.  Some of the best financial bloggers in the game are also practitioners, striving for investment success on Wall Street or at hedge funds or at independent advisories.  From that standpoint, Steinhardt and Soros and Robertson and Lampert are our DiMaggio, our Mantle or Koufax or Mays.
And so even when writing critically about an investment outcome or strategy, we are closer to call-in sports radio show participants than we like to admit.  We blog because we're fascinated and a little bit in awe.  We also believe there is wisdom to be gleaned in this running narrative, even if the 13F filings are 6 weeks cold before they hit the web.
On CNNMoney today, I have an article up about two recent shareholder activist situations involving hedge fund managers I revere.  One of these situations involves Carl Icahn and his newly cooperative relationship with Lionsgate, the other concerns the battle between Pershing Square's Bill Ackman and his quarry, department store chain JC Penney.  I have written a great deal about Icahn and Ackman, as have most other financial bloggers, because they are out there making the billion dollar deals that we someday strive to make ourselves.  It is that simple.
A post I wrote yesterday about the reflationista hedge funds with big positions in Bank of America spread like wildfire.  John Paulson, David Tepper and mutual fund manager Bruce Berkowitz all have monstrous stakes in BofA, as a play on the recovery of housing and employment over the intermediate to long-term but my take was that this mortgage fraud issue hit them like a ton of bricks.
Over on CNBC's NetNet blog, my pal John Carney disagrees with me, saying that the government will sweep this issue under the rug before these hedge fund shareholders even bat an eyelash.  Teri Buhl has her take up at Forbes in which she says I am wrong about these hedge funds fretting because they are looking out to 2012 and beyond for their investment theses to play out.  Further, she asserts, they have such low cost averages in BAC shares that any volatility is unimportant.
While I respect both Buhl's and Carney's take, they are both wrong.
They are each missing the fact that regardless of what the government does or what price BAC trades at in 2 years, a lot of damage has already been done in a short period of time.  As someone who has been running money for a decade, I can promise you that when Bank of America trades from 19 to 11 in 6 months, a 40% suicide dive against a market that is flat to up, these guys feel it –  regardless of what their pr flacks say to reporters.  You can't not feel that and nobody running a multi-billion dollar hedge fund with their name on the door is ever "unconcerned" with an unknown like Foreclosuregate.
Regardless of our disagreements, I think where we three writers and the rest of the blogosphere can find common ground is in the Why.  Why is it that our blogs and articles (is there even a difference anymore) are populated with so much discussion about Ackman and Icahn and Tepper and Paulson?  Like the starry-eyed Rolling Stone reporter, we are observant and sometimes critical of these iconic investors because in the end, they matter to us.
Sources:
Autumn Activist Planting Season (CNNMoney)
Who Cares About the Put-Backs?  All the Inflationistas, That's Who (TRB)
Three Fund Manager Titans Who Have a Lot to Lose In a Put-Back Apocalypse (CNBCNetNet)
Bank of America Woes Haven't Put Paulson Trade in the Red (Forbes)
Art by N.C. Wyeth (NCWyeth.org)