Farmer Brown here.  Again.  Get used to it.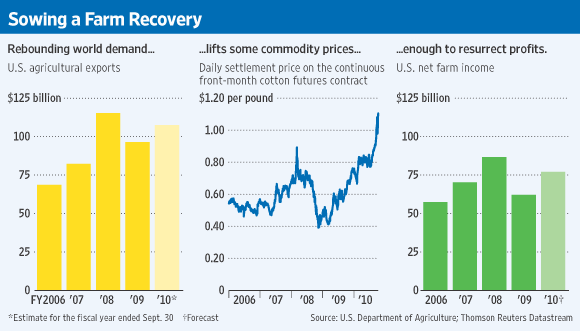 The Wall Street Journal is out with a killer article on The Farm Belt and its economic bounce courtesy of surging prices for cotton, soybeans, corn and wheat.  I have some farmers as clients and I can verify that boom times are indeed upon many of them right now.
Here's the WSJ:
Major agricultural commodities continued their extended run-up in price, underscoring how much of America's farm belt is booming even as the overall economy continues to struggle.

Contracts for the delivery of corn and soybeans into mid-2011 jumped Monday by 5% and 2%, respectively, after rising their daily permissible limits on Friday, when the U.S. Department of Agriculture sliced production estimates by small percentages. Cash cotton prices rose 3.3% Monday after a 3.9% gain Friday. They are 86% higher than a year ago.

For many crops, prices are climbing even as big harvests pile up, a rare combination. Farmland values are up while those for some other kinds of real estate languish. Debt on the farm is manageable. Incomes are rising.
Please don't mind me as I beat this ag story into your consciousness.  Head over for the rest of this essential article.
Source:
Read Also: