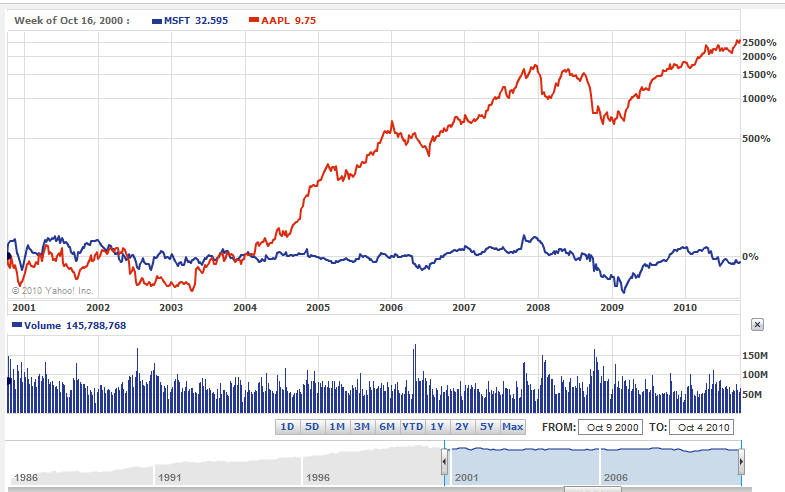 Ten years ago Microsoft ($MSFT) was preparing to launch the XBox game console and Apple ($AAPL) was being told to send all the cash back to shareholders and pack it in by Michael Dell.
And now look.  Microsoft has tried and failed at virtually everything over the last decade – from music to social networking to search to content to mobile.  Lucky for shareholders, Windows and Office keep throwing off mammoth amounts of cash.
The chart above is the one that every technology CEO in the world should keep framed in their office.  And above it should read "Products, Products, Products".  For tech, especially consumer tech, nothing else matters.
That brings me to now – Apple's stock has ramped up more than 2500% and is now selling for 5 times sales.  It has one of the largest market caps in the world and the company can do absolutely nothing wrong in the eyes of its investors.  Microsoft, meanwhile, has a gain over the last ten years of roughly minus 5 percent.  This as the amount of computers, internet users and time spent online have all exploded and exploded again.  We're not talking linear growth in computing, web and software – we're talking geometric growth.
Oh yeah, one other thing:  Gun to his head, which one of these stocks would Warren Buffett have bought back then?  Probably Apple, selling for barely a nub above the cash on its balance sheet.
A more important question – which one of these companies would Warren or other value-oriented contrarians like him be buying right now?