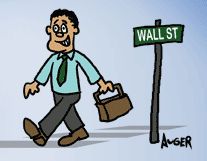 When I first heard from Phil "Pho Soup" Pearlman that Eddy Elfenbein was bringing his Crossing Wall Street blog into the StockTwits fold, I immediately thought of the Miami Heat. 
For those who don't know, Eddy is in the pantheon.  He was one of the pioneers of financial blogging from back in the day, perhaps the first blog that I was even aware of that was covering stocks and markets.  And unlike a lot of blogs that have faded since the early days, Crossing Wall Street has consistently maintained a high standard of content day in, day out, for years and years in all types of markets. 
There's a reason that everyone (and I mean everyone) links to Crossing Wall Street.
The embarrasment of riches on the StockTwits blog network is now bordering on the obscene.  Howard Lindzon, Tadas Viskanta, Eddy Elfenbein, Brian Shannon, Joe Donahue, Steven Place, Leigh "Snuggiebear" Drogen  – are you kidding me? 
The Stocktwits Juggernaut marches on.  Crossing Wall Street is just the latest gift to the community.  Welcome aboard, Eddy!
Crossing Wall Street Joins StockTwits (Crossing Wall Street)