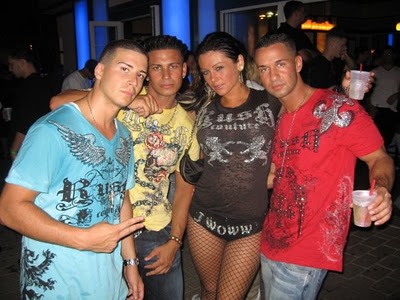 Each week on MTV's The Jersey Shore, we witness one of the most bizarre pre-gaming rituals in the history of Dudekind.  Of course, we are referring to T Shirt Time, the precursor to a Jerseyite Guido's big night out clubbing.  The blatant peacockery of the whole affair has an analog in a developing trend of bullish pageantry that only this month's 9% rally in stocks could have possibly engendered.
What exactly is "T Shirt Time"?  Basically, the meathead male cast members sit around in their wifebeaters or bare-chested, drinking what I can only assume is some sort of Vodka and Human Growth Hormone cocktail.  They are awaiting the magical moment when it becomes "T Shirt Time".  Once the word goes out that it is, in fact, T Shirt Time, the purple, black, red and silver rhinestone-studded garments in question are put on with a reverence akin to the way Marines fold their country's flag on the 4th of July.  And then, with T shirts lovingly adorning their orange torsos, the meatheads roll out into the night, bent on having someone's daughter make decisions that they will surely regret – soon and forever.
Stock bulls, who had been stunned by the springtime euro shock that threatened to derail the rally, spent the bulk of the summer with their heads down.  They may have been buying, but they certainly weren't bragging about it.  In fact, some of the most-respected market commentators and traders I follow wore their large cash positions and their admissions of uncertainty like badges of honor.  Until two weeks ago, it was hip to be scared.
This has changed.  The markets have made significant headway, breaking above the upper end of a 6 month trading range without the banks and without the energy sector, thank you very much.  Markets have ignored the low-volume complaints and have rallied despite the endless spigot of equity fund outflows (ex-overseas stock funds, which take in money around the clock).
This impressive feat, even if partially explained by the oversold conditions of the summer swoon, has encouraged several notable pundits to let their bullish freak flags fly, on the web and on television.  Suddenly, it's not so cringe-inducing to sit through a 34 minute segment on Squawk Box in which a thoughtful (and majorly successful) bull like David Tepper lays out the case for stocks.  And not only are the bulls thrilled to hear their case made in such an erudite way, they are equally proud enough of their alignment with smart hedge fund managers to post this video on their blogs and websites, en masse.
The Tepper clip is just one of several bullish memes making its way around.  Upbeat stories about the fact that, revisions permitting, we now have 4 straight quarters of GDP growth in the can are becoming more prevalent.  People are outwardly picking stocks again as well, discussing sectors as if the hyper-correlation phase may actually have an end in sight- a phase we were downright despondent about just 30 days ago. 
The M&A cycle also appears to have kicked back into full swing; we're not just seeing deals, we're bidding wars, remember those?  For a short-seller, a takeover bid for the stock you are betting against is the equivalent of an accounting fraud for a long shareholder in that you can throw your thesis out the window because everything has changed.  The bulls know this and they are growing more emboldened with every deal announced.
The longs are getting vocal now, their plumage on full display as they bask in the fact that, so far, the meteor missed earth once again.  With earnings season for the summer quarter just days away, we'll see if the pageantry can continue and if their cockiness is on a par with that of our friends from The Shore and their dazzling array of sparkly T shirts.
Gym, Trading, Laundry – that's what's happening right now.
Read Also: