Mark Twain tells us that history doesn't repeat itself, it rhymes.  When it comes to investor behavior going into earnings season, I beg to differ – it is repeating itself even now.
There is a pattern in place that you may want to familiarize yourself with as history has just repeated itself six quarters in a row.  The pattern has been a run up in stocks at the beginning of earnings season's opening month followed by the almost inevitable denouement as hearts are broken and focus is diverted elsewhere.
In each of the last six quarters, the Dow Jones was up on average seven of the first ten days of the first reporting month (Jan, Apr, Jul, Oct).  Each of these rallies ended up succumbing to selling, even during quarters with high percentage beat rates.  This action is both a commentary on our Twitter-addled attention spans and a classic embodiment of a Wall Street law so old that Hammurabi himself may have written it -Buy on the rumor, sell on the news.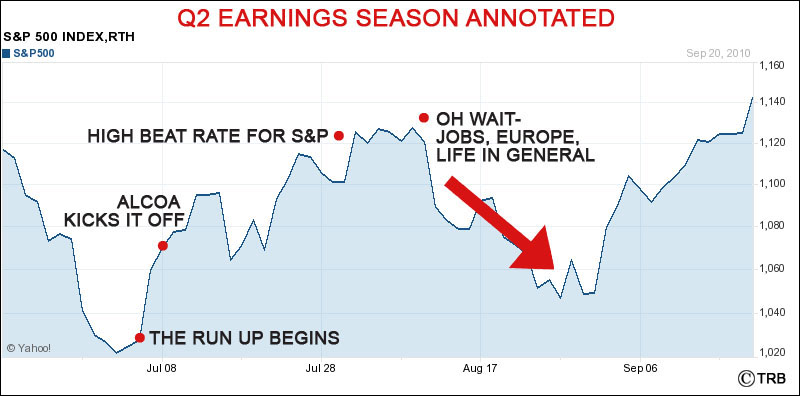 For a reference point, take a look at last quarter's earnings season (above) which kicked off with a bang in early July.  All of a sudden, consumer confidence data began overshadowing anything coming from Corporate America – on Friday, July 16th, we were looking at a brutal 250 point sell-off of the Dow Industrials, wiping out any enthusiasm from upbeat calls.  We would resume the rally for a time, only to give it all back as the drumbeat of reports winnowed away.
You can also look at the first quarterly earnings season of 2010 and see the same pattern.  We were rockin' and rollin' throughout the month of April as each headline read "better than expected".  By early May, however, news from our European cousins began to overshadow these upbeat profit reports.  On May 6th, the Euro fears had flooded over the transom and we were treated to the infamous Flash Crash.
Will this coming earnings season repeat (or even rhyme) with the last six?  We may already be on that track as stocks have begun to breakout of the much-vaunted trading range you've heard so much about.  The nominal reasons?  The NBER has (officially) declared us out of recession.  Money is being made again in gold names, tech takeovers and, somewhat incongruously, video rental stocks.  Plus, cosmically speaking, the rally was almost preordained from the moment Tony Robbins started recording videos about an impending crash (mid-August).
In short, there is an effervescence in the air as we head into the Q3 reporting period.
Can investors maintain this enthusiasm throughout October and roughly four weeks of crucial reports?  If not, we may be looking at yet another earnings season letdown.  Alcoa doesn't start us off until October 7th, there's a lot of room between now and then.  The Ghosts of Earnings Past are haunting the nascent rally even as you read this.