The title is an allusion to a scene in Tommy Boy in which David Spade hits a gas station attendant with atomic levels of sarcasm during a discussion about whether or not "Davenport is on the map".
But I digress…(if you begin a blog post with a digression, then isn't the point of your post itself a digression?)
OK, I'll stop.  Anyway, the results of a CNN poll are in and the Dismal Scientists themselves are overwhelmingly in favor of extending the Bush Tax Cuts: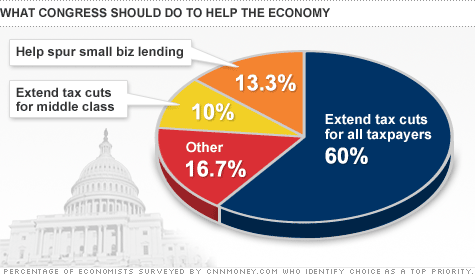 The first in a series of economic surveys revealed that extending the tax cuts for all taxpayers is the most important thing Congress can do to help the economy. Of the 31 economists surveyed, 18 chose that from a list of options now being debated on Capitol Hill.
31 economic wizards were surveyed and the guy from Moodys was in the mix, so ya know, whatever – choose your own adventure on this one.
Source: