Where are we in the Investor Sentiment Cycle right now?  Charles Kirk attempts to find out the answer based on a poll of some of his favorite market bloggers/commentators.
We were asked to identify the current state of investor sentiment based on the below graph: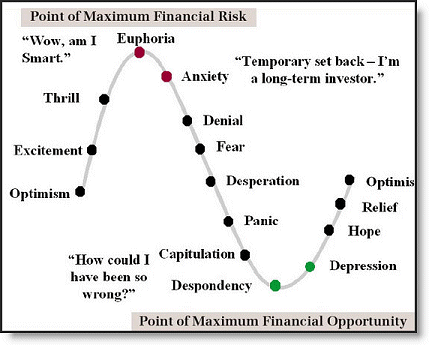 Apparently, my view that we are now in the "Hope" phase was the majority viewpoint based on those who responded.  Here's what I had to say:
"As much naysaying as we are hearing in the media and in the blogosphere, we are still holding above Dow 10,000 – efforts to drive equities below the current trading range have been met with vicious snapback rallies. People are not excited per se, but they are hoping that a reason to be excited will come along soon." – Joshua Brown, The Reformed Broker
I highly recommend you click over to see what my colleagues think.  Brian Shannon, Bill Luby, Jeff Miller, Derek Hernquist and others I respect have some interesting thoughts on the matter.
Source: