I'm not a "redistributionist" so let's not tiptoe through that particular set of tulips here.
Instead, let's admit that not every CEO kicks ass for his shareholders and that during times of mass company layoffs, executive pay at all levels ought to be scrutinized and moderated.  The ratio of CEO pay to the average employee salary is still way out in the stratosphere versus historical norms – the added dimension of CEO pay at firms with large layoffs demonstrates just how depraved the system has truly become.
A new study tells us that the CEOs of companies with large layoffs have been anything but moderate.  Take hold of your gag reflex for this one (emphasis mine):
In fact, according to the 17th annual Executive Excess report by the Institute for Policy Studies, the CEOs of the 50 US firms that cut the most jobs between November 2008 and April 2010 took 42 percent more than the average CEO at an S&P 500 firm.
Nice.  But I'm sure it was well-earned, right?  Great leaders and whathaveyou?
Interestingly, the report included the former CEO of Hewlett Packard, Mark Hurd, among its "ten highest paid CEO layoff leaders", who earned $24.2 million in 2009 – despite the company getting rid of 6,400 employees. Hurd resigned last month amid revelations of a sexual harassment complaint made against him.

Others in the top ten include Verizon's Ivan Seidenberg who earned a total compensations of $17,485,796 while announcing layoffs of 21,308 and Walmart's Michael Duke who's compensation package equaled $19,235,269, despite layoffs of 13,350.
Ew.  And wait til you blow up this infograph (click it, dog) and get a gander at some of these pay packages-vs-layoffs for 2009.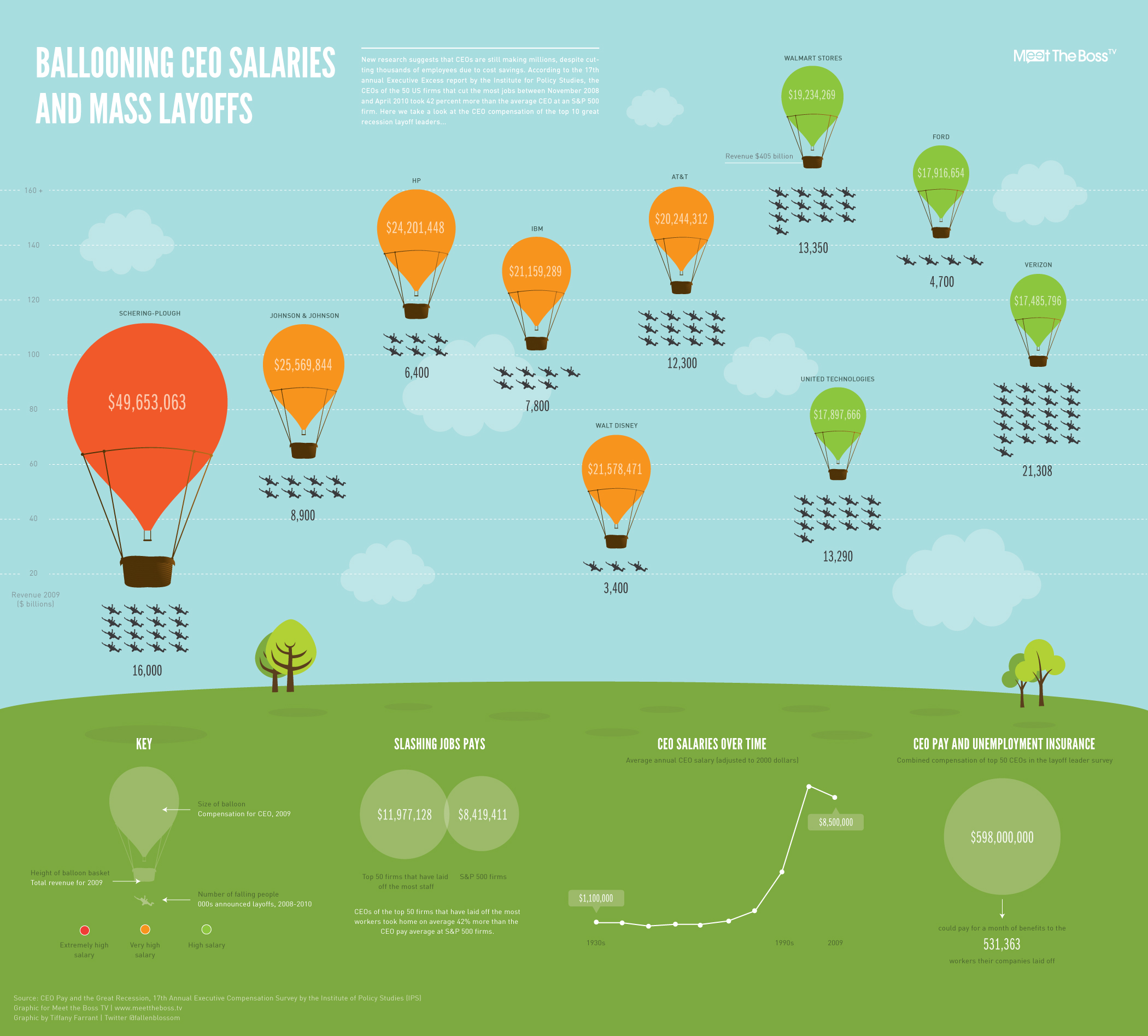 For some reason Johnson & Johnson ($JNJ) thinks their CEO was worth $24 million last year, this as the company lays off 9000 workers and faces recalls and lawsuits from across their product spectrum (Tylenol, artificial hips).  Nice work, take more money!
Grotesque.  American companies slashing and burning American manufacturing and R&D ops, laying off the rank and file and then taking credit for immediate cash flow improvements.  No future in it.
Source: