And the winner is…Cloud!  The tech industry sub-sector with perhaps this year's meatiest move is undoubtedly cloud computing.  Names like Riverbed ($RVBD), Akamai ($AKAM) and 3Par ($PAR) have all been putting up insane numbers this year, performance-wise.
My awakening to the group's potential back in January came courtesy of a kickass cover story in Barron's (Sky's The Limit)- ever since then the cloud computing stocks mentioned (and some that were omitted) have been nothing but fire – in a market that is unchanged year-to-date.
Here's a peek at the majesty that is Cloud Stock-age thus far in the Twentyten: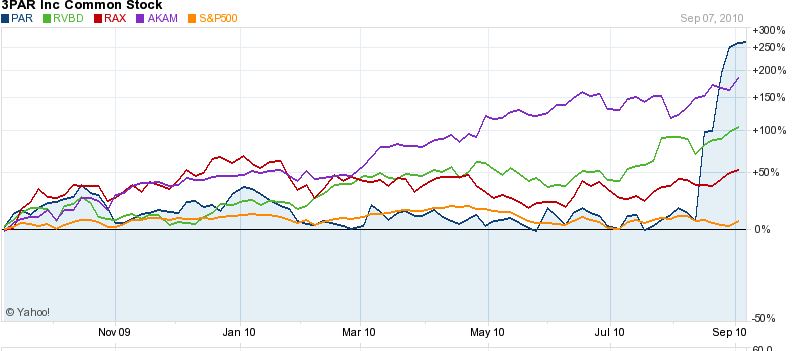 Regular readers know that I've been hammering away at the cloud theme all year, even hoping for the advent of a Cloud Computing ETF at one point this past spring, albeit in a tongue-in-cheek sort of way (we still haven't gotten one).
What's next for the group?
* I have a hard time believing that Cisco has much interest in trailing behind Riverbed in market share for very much longer.  Riverbed's Steelhead product suite speeds up transmission of applications and data from the cloud to the end user, this is a corporate IT Holy Grail as it allows for the efficient decentralization that global entities need.  I could see Cisco or one of its rivals making a move for this name as this would give them the number one offering in this crucial space instantly.
* Akamai's global "private web" video serving solution will probably continue to be the delivery method of choice as Web TV becomes a reality and online streaming continues to be monetized.  The wake up call for me on Akamai was when I learned that it was their technology that was the backbone for NBC's serving of Winter Olympics video to everyone's mobile devices.
* The bidding war over 3Par (between Dell and H-P) kinda gilds Rackspace's ($RAX) lilly a bit when you think about it.  Rackspace took over an abandoned shopping mall in downtown San Antonio and built an amazingly scaled-up cloud hosting center.  Their fanatical reputation for customer service to their cloud hosted customers is the heart of their story, however – anyone can build a server farm.
* Microsoft's CEO Ballmer said a few months ago that he was "betting the whole company on the Cloud".  At the time, he told an audience at the University of Washington that 70% of Microsoft's engineers were working on cloud-related products.  Maybe he ought to start buying cloud products rather than burning cash in his labs.
All of these stories are showing what I call Oblivious Growth in an otherwise flat GDP environment.  Nice to get a whiff of the secular stuff every once in a while and see that winning stocks can still separate themselves from the hyper-correlation.