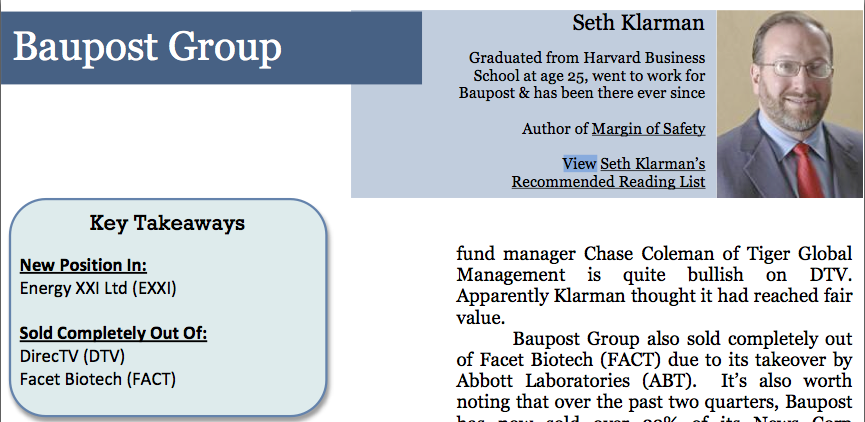 My pal Jay over at Market Folly just put me on to his latest project and it looks like he's created yet another incredible resource for all the stockpickers out there.  It will be a quarterly newsletter called Hedge Fund Wisdom.
The sample I just got is 16 pages (out of the full 75) and it's loaded with all the position updates of the top hedge fund managers that we get on MarketFolly.com.  Baupost, Soros, Appaloosa, Paulson, Tiger, Perry – everybody you'd want to follow is in there with a dedicated position sheet including detailed share amounts.
In HFW, it appears we will not only get the holdings of our favorite managers but also a bit more focus on some of these trades individually.  Having all the top managers and their stock holdings in one newsletter is a killer idea, I know lots of guys who will be printing this bad boy out each quarter as a desk reference.
We're talking some serious stockpicker porn, here.  For what's being offered, the price seems right and fans of the site know that they won't be disappointed with the  consistency of updates.
Hedge Fund Wisdom just launched on August 31st, click the link below if you're interested in checking it out:
http://www.marketfolly.com/2010/08/introducing-hedge-fund-wisdom-by-market.html