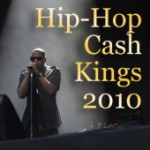 The Cash Kings of 2010 is a very cool set of features in which Forbes gives us a ranking of the top earning Hip Hop stars and some detail about who is doing what to stay on top in tough times.
Business and making money is anchored deeply in the DNA of Hip Hop culture, boasting has been one of the basic tenets of the music since its beginnings on the corner of Sedgewick and Cedar.
"I got a Lincoln Continental and a sun roof Cadillac." – Rapper's Delight

Hip Hop has always been music for strivers, hustlers and the materialistically inclined.  Forbes Magazine's embracing of this subject is great to see and full of surprises.  For example, everyone knows Jay-Z as the top earner in the game, but I didn't realize that he'll pay more in taxes this year than any other rapper will actually earn (unless you consider Diddy a rapper, which most of us don't).  I also thought it was very cool to see Rick Ross on the list and very odd to see Akon (who is a singer who often appears on Hip Hop songs but is not himself an actual rap star).
Anyway, head over for the top 20 earners, a video discussion with Hip Hop's first mogul Russell Simmons and a great look at the business side of staying fly in 2010…
Hip-Hop's Cash Kings 2010 by Zack O'Malley Greenburg (Forbes)