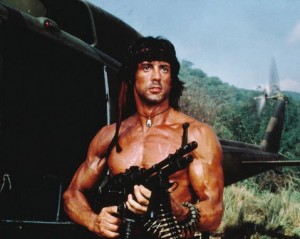 In case you've lost track (as I have), the the National Bureau of Economic Research (NBER) has never actually officially called the end of the Great Recession that they say began in December of 2007.  Not that the NBER is really all that swift at calling starts and stops.
Anyway, CNN Money reminds us that according to the official recordkeeper (and to quote John Rambo):
"Nothing is over! Nothing! You just don't turn it off!"
We'll let that marinate for a second, here's the story:
The NBER usually takes its time to declare the beginnings and endings of a recession. It's not in the job of acting on economic forecasts, but rather recording economic events throughout history based on actual indicators.

It wasn't until December 2008 that the NBER formally declared that the latest recession started in December 2007. And it took almost two years before the organization stated that the 2001 recession was over.

Who knows when the NBER will declare the end of this latest recession. Whatever date it falls on, last summer certainly didn't feel like the end of the recession even while many economists argue that it was. And in the coming year, it might feel even less like it.
So the NBER doesn't ever actually record double dips, they (in hindsight) refer to those types of occurrences as all one suckfest.  Something to keep in mind.
Source: