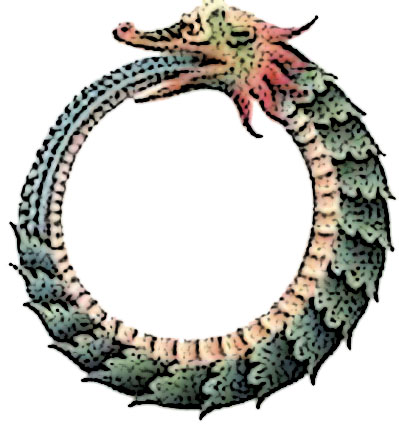 Goldman Sachs and the SEC settled the great big fraud charge at a dollar amount of $550 million just now.  The regulators get to claim victory while the Eloi get to continue their frolic atop the fluffy clouds of privilege and untouchability.  Nobody admits wrongdoing, rightdoing or frankly, admits anything at all for that matter.
The image that comes to mind when I think of this battle is that of a serpent swallowing its own tail, like the mythological Ouroboros of the ancient Egyptians.
Let's do a quick civics course for those who've lost track…
There are three branches of government in the United States – Wall Street, Hollywood and the Military.  Every once in a while, their courtesans in Congress feel the need to "tax" these firms for either actual dollars or for reasons of reputation and appearances.
So in this era, with trillions of dollars in wealth demolished and incinerated, the big case was finally brought to serve as a symbol that "someone on Wall Street was gonna pay."  Two government appendages, Goldman and the Commission, faced off in conference rooms and before the cameras on Capitol Hill.  After months of wrangling, they came to an agreement that allows shareholders and regulators alike to carry on business as usual and hold their heads up high.
Just as I predicted would happen, word for word.
Remember kids, crime never pays, but institutional influence and deep pockets can absolve you of anything.