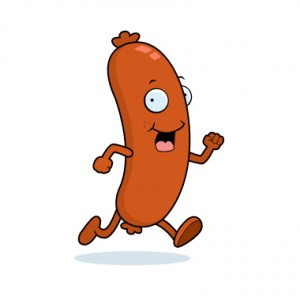 These were some of my favorite links from the weekend.  Mangia!
June Retail Sales and Industrial Production data on tap for this week, look for "moderation".  (Bloomberg)
A floor trader trying to preserve the art of hand signaling, kinda cool.  (WSJ)
The weekend's big discussion was at Stone Street Advisors, an epic thread on what constitutes a "Sophisticated Investor".  (StoneStreet)
The self-created Miami all-star basketball team is another example of institutional power crumbling.  (AVC)
Surely if traders had a creed it would sound something like this:  (ReadTheProspectus)
A throwback piece in which John Updike talks Herman Melville and the writer/audience connection.  (NYT)
Creative destruction in a debt-crazy society is painful, but it's the only way forward.  (AlephBlog)
John Paulson's $20 million NYU endowment for the Alan Greenspan Chair.  I'd bet it'll be an Easy Chair, yuk yuk.  (TBP)
Shocker: B of A was also pulling a Lehman, hiding debt at the end of the quarter.  (Clusterstock)
Energy usage in Great Britain over the last 500 years, more wind usage in the 1700's than now.  (InfectiousGreed)
The Afghan resistance is now training monkey terrorists.  Not a typo – MONKEY TERRORISTS.  (PeoplesDaily)
What links did I miss?