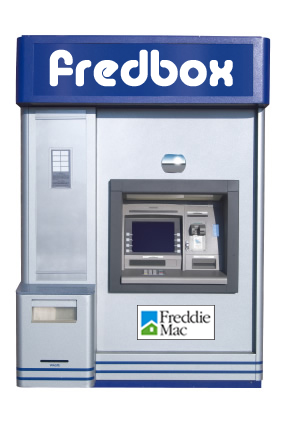 MCLEAN, Va., July 1 /PRNewswire-FirstCall/ — Freddie Mac (NYSE: FRE) today announced the company's latest innovation for the mortgage bond market, FredBox – the nation's first-ever network of securitized mortgage bond vending machines.  FredBox machines will help the company unload mortgage-backed bonds and other near-worthless agency paper in an efficient and fun way from coast to coast.
Carrying an inventory of roughly $748 billion in unpaid principle loans, Freddie Mac will now allow investors to conveniently purchase these securitized loans directly from FredBox machines and hold them until maturity.
FredBox vending locations will include airports, bank lobbies and the parking lots of participating 7-Eleven stores beginning this summer.
More details and a FredBox location app are available on the company's Web site at www.FreddieMac.com/investors/FredBox.
Freddie Mac was established by Congress in 1970 to provide liquidity, stability and affordability to the nation's residential mortgage markets. Freddie Mac supports communities destroys taxpayer dollars across the nation by providing mortgage capital to lenders people without jobs.  Over the years, Freddie Mac has made home possible for one in six homebuyers and more than five million renters.  And then in 2003 the company went completely bananas.
SOURCE: Freddie Mac
Read Also: Moody's To Introduce New Spokesmoose (TRB)

*Clearly a parody, boys and girls.