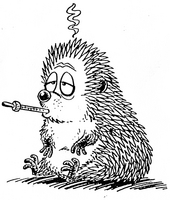 Just some random market thoughts and observations as we head into the holiday weekend doldrums…
* The S&P 500 looks to finish the 2nd quarter 2010 down 11%.  An absolute slaughterhouse from the end of April on. 
* You know the bulls are spent when we couldn't even get the traditional End Of Quarter Markups.  Brian Shannon (Alpha Trends) called it "end of quarter window-smashing" yesterday with the indexes down close to 4% apiece.
* I'm hearing chatter about the possibility of a short squeeze but I'm not sure I see one brewing.  You would need something on the horizon that adds a little fear for the shorts.  You're going to tell me that they're afraid of tomorrow's ADP report?  Or the employment numbers due out Friday? 
* (Supposedly) positive news from Europe's banking wreck yielded little or no reaction here in the States this morning.  But we all know how negative news is reacted to lately.  A sentiment indicator if ever there was one:  Good News = Blah, Bad News = Death & Dismemberment.
* Apple finishes down more than ten bucks on news of a Verizon iPhone launch in 6 months.  So apparently, 10 million plus new iPhone users is an underwhelming possibility.  Another sentiment touchstone for sure.  Verizon was down, too.  Oh boy.
* No one running big money is looking to do anything heroic this week, regardless of stocks having gotten, shall we say, a bit cheaper.  Other than BP (because of Exxon rumors) and the Tesla IPO (hyped beyond belief), I saw little appetite for anything this week.  The selling has stopped in many stocks as of this writing, but now what?
***
Anyway, these are just some random observations as I take the market's temperature.  I realize that taken together they are incredibly negative, but that's the mood. 
We'll see how she finishes the week.