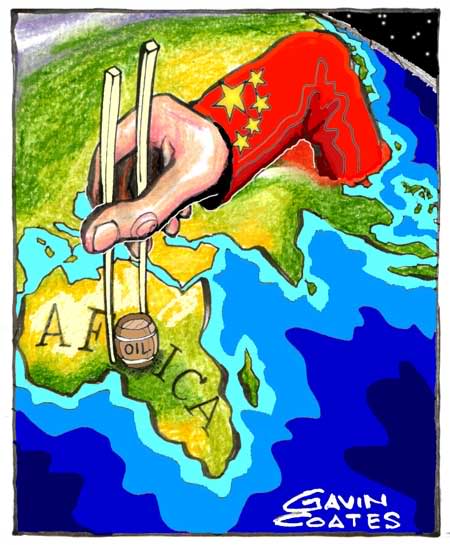 When you think about it, the mineral-rich, underdeveloped continent of Africa should really be working with the US more than with China after a century of our aid and support.  But the leaders of Africa now have a new gentleman caller, and a deep-pocketed one at that.
Africa has gone Sinophile as the Chinese have stepped up to the plate with massive investment mobilization…
From TIME:
The ambition, speed and scale of Chinese involvement in Africa is extraordinary. According to Chris Alden, author of China in Africa, two-way trade stood at $10 billion in 2000. By 2006, it was $55 billion, and in 2009 it hit $90 billion, making China Africa's single largest trading partner, supplanting the U.S., which did $86 billion in trade with Africa in 2009. Today the Chinese are pumping oil from Sudan to Angola, logging from Liberia to Gabon, mining from Zambia to Ghana and farming from Kenya to Zimbabwe. Chinese contractors are building roads from Equatorial Guinea to Ethiopia, dams from the Congo to the Nile, and hospitals and schools, sports stadiums and presidential palaces across the continent. They are buying too. Acquisitions range from a $5.5 billion stake in South Africa's Standard Bank to a $14 million investment in a mobile-phone company in Somalia.
The Chinese are getting access to the resources they need for economic growth and industrialization, the people of Africa are getting roads, schools, hospitals and a crack at the 21st century.
And here in America we're coming up with new flavors of bottled water.  Seriously, because how the hell did we ever make it as a nation without the taste of NutraSweet and boysenberry in our drinking water?
And why are the Chinese so successful in such a difficult place?  Because they don't do humanitarian rescues or loans or gifts, they do deals, according to the article:
For all the heat, even IMF officials admit that the Chinese model for African development has some advantages. First, it's quick. Loan talks with multilateral agencies take years. The China-Angola discussions took weeks. "With the West, there are studies, analyses and bureaucracy," says the Western official. "The Chinese just ask what the government wants, and they don't question or comment or judge. They just do it."
China for the block and the eventual win.  Head over to TIME for an idea of the scale and scope of this coup by our eventual rival nation.  I've been dipping a toe in Africa-related plays for a year or two now, I may get more serious about them this summer.
Source: