Think fast – who's on the $10,000 bill?  Granted, you may never have actually seen or held one in your hands, but you'd probably know the name if I said it, right?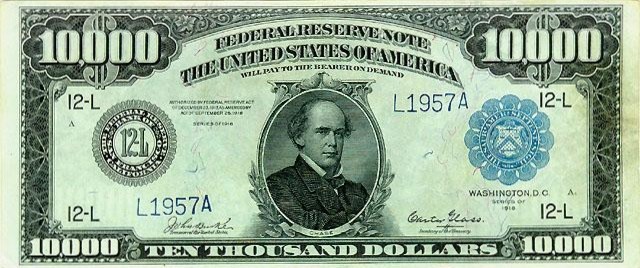 Okay – it's Salmon P. Chase who appears on it.
Never heard of him, right?  As we approach Independence Day, I thought we'd take a look at a fairly obscure but important American, the man who both created the national banking system and invented America's paper currency.
Salmon was a politician from Ohio in the mid-19th century, one of the most outspoken anti-slavery voices in the nation.  He ran for the Presidency as the first Republican candidate, eventually throwing his support behind Abe Lincoln for the national race.  Lincoln ultimately made Chase his Secretary of the Treasury after the election.
As Treasury Secretary from 1861 to 1864, Salmon Chase raised the $500 million needed to finance the Civil War after striving hard to prevent it's having to be fought at all.  To accomplish this, he sold war bonds with the help of early investment bankers Jay Cooke & Co.
Chase also was the father of our modern paper currency as he created the first "greenback" demand note in 1861.  We won't hold the fact that his own face appeared on many of these notes against him.  Chase is said to have personally made the decision to have "In God We Trust" added to the bills as well.
Salmon Chase died at the the age of 65 in 1873 and the Chase Manhattan Bank (now a part of JPMorgan Chase) was named in his honor.  From 1928 to 1946, the $10,000 bill was printed and circulated with his face on it.
Anti-slavery activist, proto-Republican and creator of the US paper currency – Salmon Chase is a name you should know.