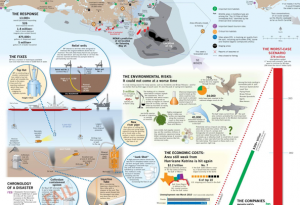 June 24th, 2010 – VAN NUYS, CA – Out of tragedy hope is born, as the BP oil spill sparks a massive hiring spree for the infographic industry.
Acme Infographics, based in Van Nuys, is just one of hundreds of companies who are experiencing heavy demand for BP oil disaster-related infographics at a time when talent is scarce.
According to The Bureau of Pretty Information (BPI), there have been approximately 7,000 infographs created since the disaster began two months ago.  Because most websites show absolutely no sign of losing interest in these, the people who can create them are facing a sellers' market for their skills.
"Look, every conceivable way of looking at the spill and illustrating the data has already been executed," admits Alan Twink, Acme Infographic's CEO, "but everyday the Huffington Post is open for business, and what are they going to do- not post infographics?"
So far, we've seen infographics depicting how large the spill is in barrels, how large the spill is in gallons, how it compares to other spills, what the oil spill would look like if laid out over other geographic areas, how many pelicans have been oiled by the spill, timelines of the spill, projected costs of the spill and many more.  Infographics about the spill are currently being created at a rate of 3 per hour but even this pace has proven inadequate to meet the demand of websites hungry for more colorful BP/Gulf-related charts.
This demand has led to a hiring boom that stands in sharp contrast to the rest of today's economy.  Acme Infographics has added 36 employees in the last few weeks who are churning out red, blue, yellow and green BP infographics around the clock, sometimes working in double shifts.  Hotbeds of infographic industry hiring include New York, California, Louisiana, Chicago and oddly enough, Pyongyang, North Korea.
The infographic business was hit hard as Americans lost interest in illustrated charts about bailouts and bankruptcies in the wake of the financial storm's passing last year.  BP's disastrous Deepwater Horizon well was exactly the shot in the arm the industry needed.
Industry insiders are uncertain about how long the oil spill infographic boom will go on for, but they are hopeful.  "Either way," Twink notes, "someone's gonna screw up something, and we'll be there there to make pretty pictures out of it for blogs."
Joshua M. Brown