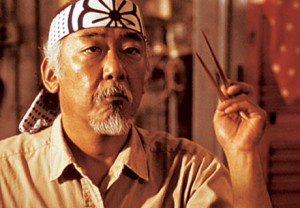 I don't care if you trade forex, stocks, commodities or bonds – if you're out here running money in any capacity then you're braving the Risk On, Risk Off training regimen that the Market Miyagi is putting us through.  It changes daily or bi-daily, but damn if I don't feel like a pinball on my last ricochet before I head home each night.
Early in the morning, Risk On is signaled by positive economic data points out of China.  The next thing you know, the euro's being short-squeezed putting pressure on the dollar while US Steel ($X), Freeport Mac ($FCX) and the rest of the industrial-cyclicals are dancing around the maypole with streamers and confetti.
The very next day it becomes Risk Off as the TV studios in Englewood Cliffs welcome the Performing Bears fresh from the Moscow Circus.  Futures are the blood-red opposite of the prior day's close as the Dollar, the Vix, Gold and Treasuries puff up their chests.
Monday the bulls blast a hole in the sky
Tuesday the bears say 'The End is Nigh'
Wednesday risk assets are all the rage
Thursday fear is back on the front page
Etc.
I've caught a few of these turns in both directions but there are simply too many to risk catching them all.  Like most patterns, once the crowd catches on and learns to play, it gets even more difficult.  We may not be there yet, but soon. 
"Risk On, Risk Off.  Buy Danielson, Sell Danielson."
And the Market Miyagi stands off in the distance with his arms folded across his chest, grunting his approval at our attempts to run the gauntlet.