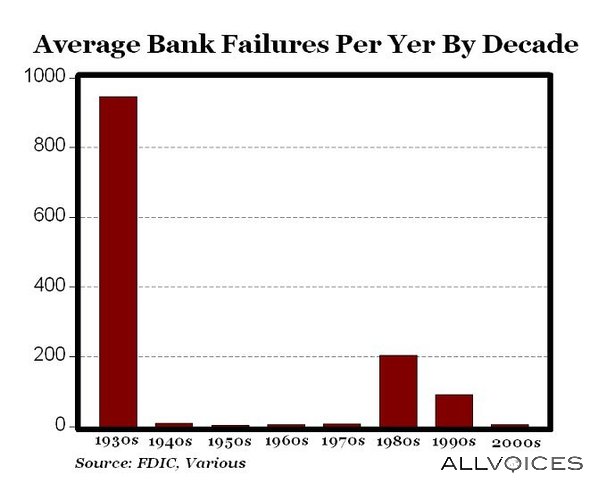 Every Friday night, I see a bunch of articles and blog posts come out documenting the latest one or two banks to go down for the final dirt nap.  I think these articles are superfluous at this point as the flow of failed banks just isn't all that remarkable.
A peculiar feature of the massive credit bust is actually how few banks have gone under, especially when compared with annual bank failures of past decades.  This is not peculiar in that we cannot explain it (bailouts, massive banks have already gone under or have been merged to protect the system, the night is still young, etc).
We've had about 82 banks go down in 2010, and it's June, the halfway mark.  Assuming this means something a bit north of 160 for the year, the number really just isn't that high.
As seen in the graphic above, at this rate, we are somewhere in between the annual averages of the 80's and 90's for bank fails.  And nowhere near the annual rate of the 1930's (during which there were a lot more small banks scattered around the country and no FDIC mechanism created in the beginning of that decade).
160 to 200 banks going under isn't music to anyone's ears, but it certainly wouldn't be a superlative figure either.  I think we've already seen our share of fireworks on this front in 2008 and 2009.  The counting can stop now.
Chart Source:
Average Bank Failures Per Year By Decade (All Voices)