I just want you guys to know that as much fun as I poke at The Unrecovery and as much naysaying as I do on this site, in the back of my head I would much rather be wrong.  I would prefer a scenario where the economy continues to recover and that, most importantly, people start working again.
Anyway, here's some interesting stuff on the bounce-back of railroad shipping volumes…
Demand for railroad service is rebounding from its astounding 2009 plummet at a record clip. The Association of American Railroads this week reported that May's 15.8% year-over-year monthly carload growth was the second-greatest monthly gain in United States demand since the AAR began tracking volume in 1990, and the all-time greatest monthly carload increase was in April–just the prior month.
It looks something like this year over year: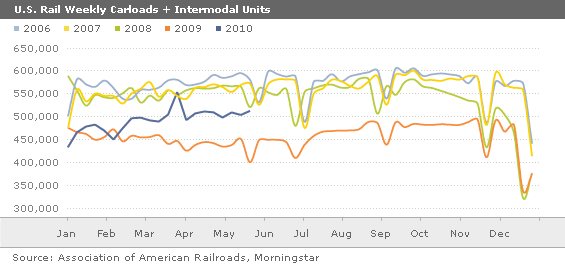 The truckers were saying some positive things earlier this week as well.  I'm hoping for a continuation of these signs of real-time economic activity, but I'm still hating on this recovery until activity like this translates into jobs.
Source: