If you know a technician, chances are he or she has emailed you some variation of this chart – a blueprint for a potential head-and-shoulders topping formation with either the S&P or the DJIA currently sitting at the neckline.  The chart may or may not come with some speculative dashes filling out the as-yet non-existent right shoulder that many chartists believe is being telegraphed to us right now.
To give you a sense of the time-frame and price action, let's name the index highs of January 2010 as the left shoulder, followed by the February lows (neckline).  The head would be our new highs in April followed by the plunge to the neckline of May 25th.
Here's an example I pulled off Chart.ly, uploaded by my man Trader Stewie: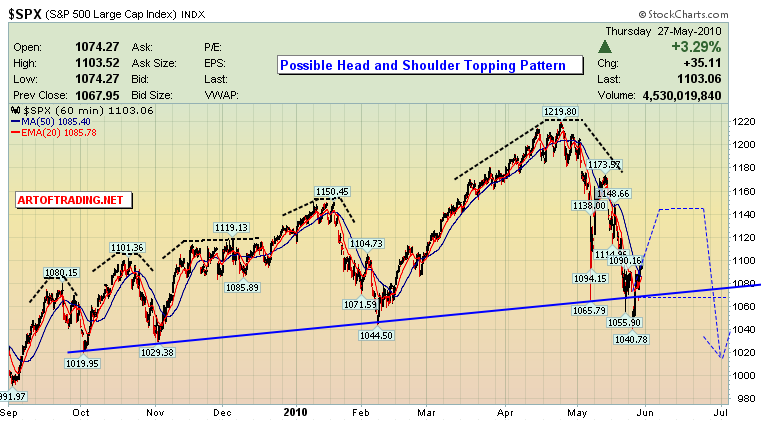 There are many charts out there like it right now.
Should the market start heading higher here, I expect we will hear 'right shoulder' talk galore, as the rally will be seen as being on its way to an appointment with destiny – in this case, destined to roll over and complete the head-and-shoulders top that could lead to much lower levels.
There was a massive head fake of a right shoulder story going around in July of 2009 (spotted by Art Cashin), but this time there is more attention being paid to the possibility.
This "right shoulder is coming" meme will eventually go mainstream, and from there it will either become another false alarm or it will happen.  Don't say you weren't warned in either case.