Brett Arends has a story up over at WSJ that makes the case for more pain – that the March '09 bottom wasn't quite painful enough to have been THE bottom for this cycle.  The article's an amusement park for shorts, but does a nice job categorizing the items that could lead to another brutal beating for stocks.
The slide that began in 1969 didn't end until 1982. The slump after 1929 didn't give way until the late 1940s. Japan's gloom is still with us.

In general, the bigger the bull-market boom, the bigger and nastier the bear market that follows. The bull market of the '80s and '90s was the biggest on record. So expect the bear that follows to be ugly and tenacious.
And for some perspective, Lisa Haney throws in this Dow Jones Industrial Average bear market guide…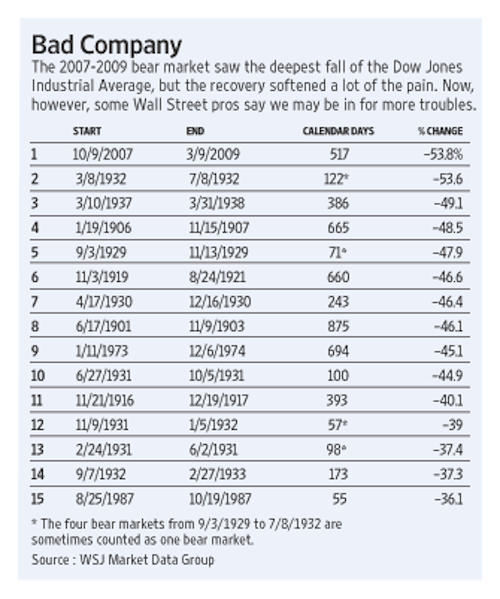 The 2007-2009 plunge is the worst on record, but according to some, not nearly damaging enough considering the run-up in asset prices that preceeded it.
Source: