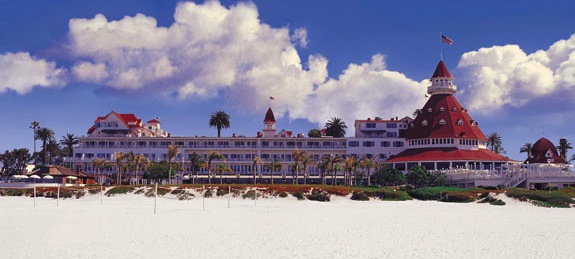 24 hours since my arrival in San Diego and I'm absolutely in love with this city.  Haven't been here since I was a kid and I have no idea why not.
The event I'm here for, Lindzonpalooza, is happening on Coronado Island, which is actually a peninsula.  Coronado houses a Navy Seal training ground, a drop-dead gorgeous stretch of beach and some of the friendliest people I've ever met.  It's a killer spot.
Last night I got to meet of lot of the other StockTwits personalities for the first time.  What separates our community from other financial media outlets is that our guys in real life are exactly the way they come across on their shows and on the stream.
There are market commentators, journalists, venture capitalists and traders everywhere.  It's great to hear people's success stories and to get a sense of what they are watching out for and working on.  A terrific conference so far.
Today, Brian Shannon (Alpha Trends) has press-ganged a bunch of us into going sea kayaking.  I know…this might totally be my last blog post!
Anyway, here are some links:
Wall Street-battling New York AG Andrew Cuomo announces his candidacy for Governor.  (NYP)
After a lost decade for stocks, another lost decade?  (AbnormalReturns)
A brief history of Goldman Sachs and how they got to this point.  (Forbes)
Morningstar's outlook:  Stocks are now undervalued, Greece is not the next sub prime and inflation is under control.  (Morningstar)
Hedgie Ron Burkle and his partners the Weinstein brothers may not succeed in buying back Miramax.  (DailyBeast)