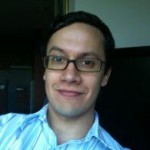 Clusterstock has its first embedded reporter and he is currently keeping us posted on the riotous protests in Thailand.
Vince Fernando, one of the better bloggers at The Business Insider, is keeping us updated on the explosive situation in real-time.
Having drinks with Joe Weisenthal a couple of weeks back I was amazed to hear about Vince's insights into the protests.  In retrospect, these were the early rumblings of what has now turned into a full-blown riot, complete with burning stock exchanges and shopping malls.
Here are some of Vince Fernando's missives from Bangkok.  Stay safe, Vince.
Thai Army 'Live Fire' Slaughter Zone
All Hell Breaking Loose, Stock Exchange On Fire
Shocking Pictures of the Last Six Hours  (yes, of course there's a slideshow, it's Clusterstock)