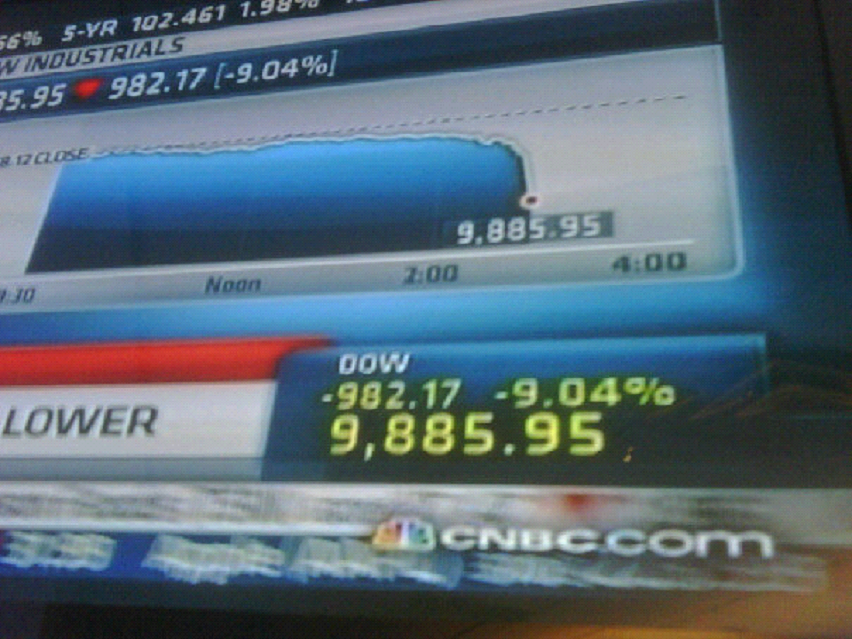 The Dow Jones Industrial Average dropped 998.5 points intraday.  It happened so fast that if you were in the restroom or doing paperwork, you missed it.  The market recovered about 650 points of that drop by the close.
Here are some of my initial reactions to what it all might mean…
1.  For starters, let's all keep in mind that these things don't happen in a healthy tape.  The jitters from Greek rioting and possible contagion were the necessary preconditions for a crash like that.
2.  The "Fat Finger" thing is nonsense.  Maybe someone made a sizable error, but one cannot deny the fact that the algo-driven tradebots poured gasoline on the fire.  The machines were triggering stops and wrecking everything in sight before human beings with qualitative senses could get a handle on what was happening.  Congress is planning the hearings as we speak.
3.  For me to enter a sell order for a retail brokerage client of 500 shares of Microsoft ($MSFT), I need to go through 3 screens of verification and order confirmation.  How is it possible that someone with the clearance to sell 16 billion shares of the S&P Spider could even have a typo?  If I have 3 screens to confirm a trade, how much order verification does he have?
4.  Look at your keyboard…the "M" for million is not even next to the "B" for billion.  There's an "N" in between the two keys.  Dude, how fat is your finger?
5.  If you were intentionally trying to chase the last of the individual investors from this market you couldn't have written a better script than "accidental trade vaporizes trillions in value from US stocks".  People are just disgusted already.
6.  Cramer was so money today.  Whatever you think about him in general, he's the guy that came on CNBC down 1000 and told you that these were fake quotes, to go buy Proctor & Gamble ($PG) down 20 points.  He was cool, calm and perfect in that slot.
7.  We still don't know whether or not any of the trades from that session will be unwound by broker/dealers.  There were a ton of stop loss orders hit and people missed fills entirely in many cases.  We should hear about that soon.  Let the bickering begin!
8.  Anyone who told you he bought down 1000 is lying to you.  Bids were raised off those levels in seconds.